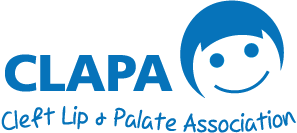 #FundraisingFriday – Jenny
This #FundraisingFriday we want to say thank you to the lovely Jenny Lyons, pictured here with one of our beautiful collection cans! Jenny has raised over £1000 for CLAPA so far, and she hasn't stopped yet!
I support CLAPA because I was born at kings college London with a cleft lip and palate in March 1981, before scans were routinely used, because of this my mum had no idea I was going to be born with a cleft, she would have to spoon feed me as I couldn't suck a bottle and the bottles provided would cause my mouth to get sore.
I had my lip repaired at around 3 months old and palate repaired at about 16months old. Both of these were done at kings. I have had many operations since then including bone graft at 10 years old, rhinoplasty's and a number of palate ops throughout my childhood, teenage and adult years. I had 6 years of braces to get my teeth straight.
Being born with a cleft was difficult but I wouldn't know any different. I am thankful for all the surgery I have been able to have over the years at various hospitals and also a very supportive mum and family. CLAPA is obviously a charity very close to my heart and love trying to raise money for them, I once wore a onesie to work for cleft awareness week and another year I held a last minute cake sale at work.
If you want a collection can to place in your local community or place of work, get in touch! [email protected]