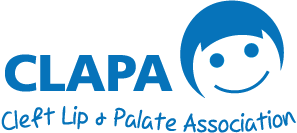 This week's staff blog is from Vicky, our lovely Community Fundraising Manager!
Hello to my second staff blog! What do I have to tell you about this time…
It's been a very busy couple of months for the CLAPA team as a whole. As Rebecca explained last week, we recently had our annual branch day in London and it was all hands to the pump to make sure that it was a success – which I'm pleased to report it was! Despite having been here since January, there are lots of people I haven't had the opportunity to meet yet and this gave me a chance to put a few more faces to names.
At the end of last month I had the pleasure of travelling to the North West to meet students doing remarkable things to raise awareness and funds for CLAPA's work. Firstly I went to the Queen's School in Chester to say a huge thank you to ten students and their teachers who took on the Holyhead to Chester bike ride this summer for CLAPA and raised over £1500. You might remember reading about them at the time, they were very active across Twitter, but if not, I'd urge you to take a look at Zoe's blog here – she's one of the students and it was her nomination that saw us be us become the group's chosen charity. 
Secondly I went to Rhyl College to meet a group of young women who had chosen cleft and CLAPA for the topic of their recent college assignment. They've been raising awareness amongst students this term and I got to speak to their class about our work.
We're looking to expand our school outreach next year, allowing us to raise more awareness of cleft in schools. If you think your school, college or university would like to be involved please do drop me a line, I'd love to hear from you.
In the run up to Christmas we've had lots of supporters get in touch to request materials for a range of different events they're planning from raffles to bake sales and fairs. It's very exciting to hear about all of this activity and I'm humbled to be able to offer my support.
As I write this I'm on the train back from Cardiff. I've just had a wonderful day at a CLAPA Christmas party, organised by our wonderful South Wales volunteer branch. Santa was in attendance, and all the children had a blast. The highlight for me was getting the chance to meet Santa, of course!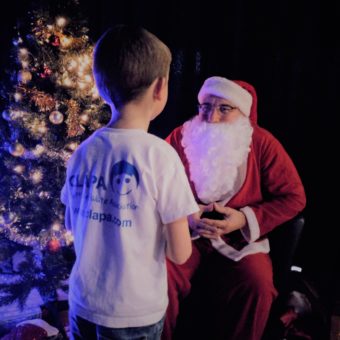 I'd like to welcome our new team member, Eden Quayle, our Community and Events Fundraiser. He's been with us for two weeks now and already making great strides in putting together a new calendar of challenge events. 2017 is going to be bigger and better than ever for CLAPA, especially as we're already starting to plan Awareness Week (6-14 May 17) and we'd love for as many members of the CLAPA community to get involved. Keep your eyes here for updates on the week.
And finally, for those of you that remember reading my first staff blog, you'll remember that I spoke about setting up our new Christmas shop. There are just a few days to make those last minute orders as the shop shuts on 9th December so please don't delay if there's something you've had your eye on. Also don't forget that as you're Christmas shopping for your loved ones you can also give a FREE gift to CLAPA by using one of our partners Give as you live or Savoo.
That's all from me, see you next year!
If you have any questions, or want to know more about any of the above, please don't hesitate to get in touch on [email protected].