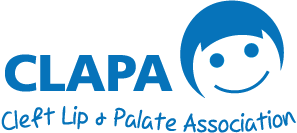 CLAPA Out & About in Scotland
This week's blog is from Gillian, our Regional Coordinator for Scotland.
Well it's a few weeks since I last posted in the blog and as usual it has been busy.  On 31st July we had our first 8 and unders Family Day.  I set off and headed to Blair Drummond, near Stirling in time to get set up and meet the families for 12pm at Briarlands Farm Park. We had 72 people registered to attend and, whether it was because the sun was shining in the morning, 69 people number turned up! (Needless to say it didn't stay sunny or dry all day!).  What a fantastic day with children building sandcastles, playing on go karts, feeding the animals, taking part in the tractor ride and several families went strawberry picking!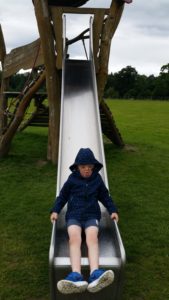 Now I know paperwork is a pain, I can hear your groans already and can feel the eyes rolling!  I hate it too, but we really need to collect data for the funders and everyone was fantastic at completing the forms and ensuring we received them back.  A big thanks to Melanie, Scotland Support Officer and Iona, Volunteer, for helping with this.  I'm sure they are sick of my reminders about this being really important.
So we had 2 forms needing returned.
Equal Opportunities (EO) forms – these are the types of questions you get asked at various places things like what sex you are, what age you are, your nationality etc.  The good news is you only have to complete this once ?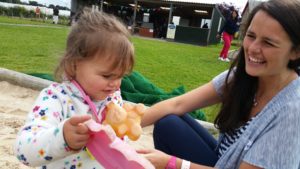 Feedback forms – these are really, really important as we have to be able to explain to the funders just how much you and the family got from attending the event.  Things like the children improving in confidence, the fact the parents feel more informed about cleft (usually from the information they have gathered from talking to other parents), the fact that parents are able to support others by sharing their experiences is all important to our funders and hopefully will help towards further funding after 2018.  The bad news is you have to complete one at every CLAPA event you come to, but it's worth it if it means we get more money to run free events!
Since then, two of our Happy Faces groups have run summer outings, Happy Faces Fife went to Clunny Claes at the beginning of August and had a great day apart from "the wind" which, living in Scotland, is a general occurrence.  Generally the families commented how great it was to meet others at this event and I think this highlights the importance of keeping these events running.  A huge thanks to volunteer Allison Wardlaw for organising this event and collecting all the relevant forms.
Happy Faces Glasgow went to Rouken Glen Park just at the weekend there. Another huge thanks to volunteer Lee Holland who organised this.  Lee changed the venue for this months Happy Faces meet up to try and get some new families along to Happy Faces Glasgow and it certainly brought out some new people.  At the beginning of the week when I checked the numbers, I sent a slightly hesitant "well done" email to Lee, to which he replied "be careful what you wish for" when we saw 29 children plus parents were registered to attend.  However, in his usual jolly way he managed to up his free food supplies to ensure everyone would be catered for!
Once again, parents commented on how great the event was and many loved the opportunity to socialise and meet other parents.  Thanks also to volunteers Yvonne Galbraith and Kirsty Hall, who helped to collect the EO and feedback forms (see I told you you'd be sick of me mentioning these!).
So a busy few weeks, followed by another few busy weeks:
Sunday 4th September – Family Fun Day, Crieff Hydro
Sunday 11th September – Edinburgh Branch summer picnic, Lochore Meadows, Fife
Saturday 17th September – Scotland Children and Young People's Council meeting
Look out for further upcoming events and Happy Faces meeting dates, as well as the launch of our new Happy Faces Forth Valley!
Finally I just wanted to say a temporary goodbye to Melanie, who leaves us to have her baby at the beginning of October and welcome to Rebecca McDonald who starts as Scotland Support Officer in mid September.