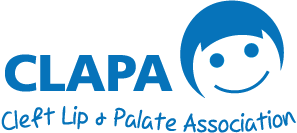 Last month, we unfortunately received the sad news that CLAPA supporter, Anne, had passed away in November, after a long fight with facial cancer.
Here at CLAPA we wanted to write an article to celebrate Anne's life, and to say thank you. Anne's husband, Owen, along with their niece, Ellen, wrote a letter to CLAPA describing Anne and her giving nature:
"Anne was a wonderful wife, mother and grandmother, with a loving family and great number of friends. She loved life and helping people, after working many years as a child minder at home, then became a carer at a local nursing home taking on the roll of 'activities co-ordinator' a roll she particularly relished. Both Anne and Owen kept an eye on their elderly neighbours whom they looked upon as family. Anne was also a volunteer for the WRVS for over 25 years."
Owen continues to explain in his letter that Anne faced eight years of treatment after receiving her cancer diagnosis, during which time she underwent many operations which left scarring and affected her speech. Whilst Anne and her family have no direct contact with cleft or CLAPA's work, her experience with treatment gave her an affinity with others who need facial operations and those born with speech impediments. Anne felt particular empathy for children who require treatment from such an early age.
Before Anne passed away, she spoke with Owen about CLAPA, and requested that a collection was held at her funeral in lieu of flowers to support our work. Her family and friends honoured this request and an incredible £1700 was raised in memory of Anne, and the kind and loving lady that she was in life.
Here at CLAPA we are blown away by this generosity, which has been shown at such a difficult time for the family. This gift will make a significant contribution to our work in the coming years such as paying for one of our life changing young people's Residential Weekends, or perhaps cover the annual costs of funding a CLAPA Happy Faces group and provide an informal support network for parents and carers of young children (aged 8 and under).
The CLAPA team would like to take this opportunity to thank Anne, and her family and friends for their kindness and generosity.
If you would like to know more about In Memory Giving with CLAPA, please get in touch with our friendly team at [email protected].