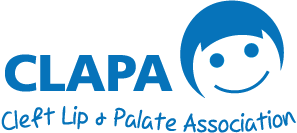 UK POSTAL DELAYS: Please note some areas of the UK are experiencing severe postal delays. During lockdown, CLAPA will continue to send out all orders as quickly as possible, but it may take longer than usual for your order to reach you.
The CLAPA Office is closed, but our staff and volunteers are still working hard to support you remotely. Our feeding service is still running, and orders will be dispatched only when staff attend the office on two afternoons each week.
INTERNATIONAL ORDERS: We have resumed international orders. Please be advised that following Brexit, EU customers may be asked to pay additional taxes when orders arrive. Please consult your country's guidance on receiving packages from outside the EU, and be aware that CLAPA is not liable for any extra charges you may incur.
REPUBLIC OF IRELAND: CLAPA Ireland currently have a stock of MAM bottles and teats which they are able to supply to hospitals and families in need. We will continue to supply RoI families through our web shop, but please contact CLAPAI if you are concerned about delivery post-Brexit.
Find out more about the bottles and teats we provide
Read our Retail, Refunds and Returns Policy
Download our latest catalogue (August 2020) or Price List