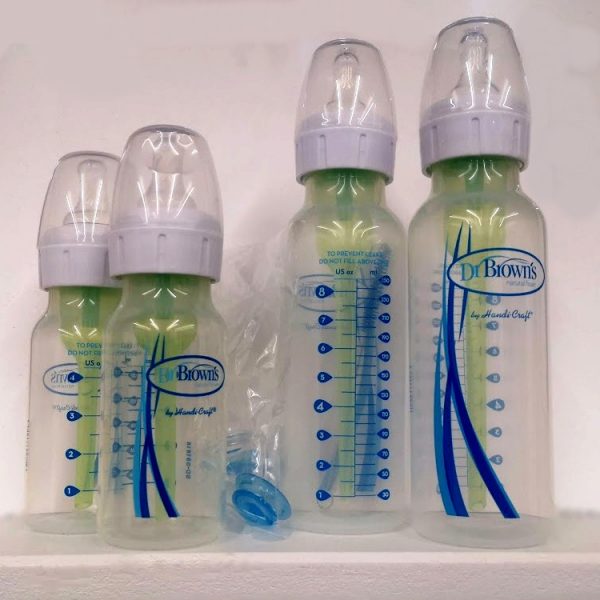 Dr Brown's Bottle & Teat Pack
£25.00
This speciality feeding system can be helpful for babies with sucking difficulties, and the infant-paced feeding valve allows the baby to have more control over the flow of milk.
Each pack contains TWO bottles, EITHER small (4oz) or large (8oz). Image is for illustrative purposes only.
Unfortunately, we cannot control or alter the contents of these packs, so parents requiring larger sized teats will have to buy these separately. We may be able to sell individual bottles in the future, but aren't able to do so at this time. More information.
Each pack contains:
2 x bottles (Small: 4oz OR Large: 8oz)
2 x teat (Level 1)
2 x spare teat (Level 2)
2 x infant-paced feeding valves
1 x cleaning brush
Note: These bottles use US ounces, which are around 4% larger than Imperial (UK) ounces. The ml measurements are the same.
Markings: If the markings on the side of your bottles are coming off, please contact our suppliers, Central Medical Supplies (CMS), directly on 0153 839 9541
Also review the following information:
Why is the ink coming off my bottles?
Please speak to your Cleft Nurse Specialist before trying any new feeding products and remember that CLAPA staff cannot give medical advice.
NHS TRUSTS & LARGE OVERSEAS ORDERS: Please email [email protected] to make an order. We will reply as soon as possible with a full quote.
Dr Browns would love to have your feedback about how you use their bottles. Please consider taking 5 minutes to complete this simple survey.