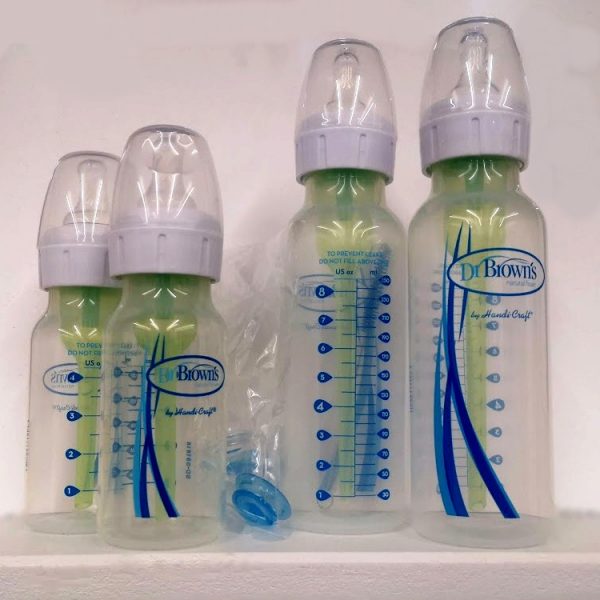 Dr Brown's Bottle & Teat Pack
£25.00
This speciality feeding system can be helpful for babies with sucking difficulties, and the infant-paced feeding valve allows the baby to have more control over the flow of milk.

Unfortunately, we cannot control or alter the contents of these packs, so parents requiring larger sized teats will have to buy these separately. We may be able to sell individual bottles in the future, but aren't able to do so at this time.

Each pack contains:

2 x bottles (Small: 4oz OR Large: 8oz)
2 x teat (Level 1)
2 x spare teat (Level 2)
2 x infant-paced feeding valves
1 x cleaning brush
Image is for illustrative purposes only.


Note: These bottles use US ounces, which are around 4% larger than Imperial (UK) ounces. The ml measurements are the same.

Note: If searching online or elsewhere for "Dr. Brown's Bottles" be aware that Infant Paced Feeding Valves are only included with "Dr. Brown's Specialty Feeding System" also known as "Dr. Brown's Zero Resistance Feeding System" bottles and are not included with any other type of Dr. Brown's bottle such as "Options" or "Anti-Colic" bottles.

Markings: If the markings on the side of your bottles are coming off, please contact our suppliers, Central Medical Supplies (CMS), directly on 0153 839 9541

With excessive sterilization and/or rough scrubbing of the exterior of the bottle, the ink on some Dr Brown's bottles may peel or fade over time.

Note: Bottles should not be handled/ scrubbed or wiped with a cloth until they have fully cooled down (if using steam or microwave to sterilize) as it will lead to the ink coming off the bottles.

To prevent further issues, avoid over-sterilizing the bottle vessel for example leaving your bottle in a cold-water solution over night or all day, and do not aggressively wash the exterior.

Also review the following information:

Why is the ink peeling off my bottle?

The manufacturer does not supply spare valves so Clapa is also unable to supply them.

Infant-Paced Feeding Valve not available for individual purchasing


More Information

Care Instructions (See Resources at bottom of the page)

Selecting the correct teat size.

Why Are My Dr. Brown Bottles Leaking? (Causes & Solutions)

NHS TRUSTS & LARGE OVERSEAS ORDERS: Please email [email protected] to make an order. We will reply as soon as possible with a full quote.

Dr Browns would love to have your feedback about how you use their bottles. Please consider taking 5 minutes to complete this simple survey.