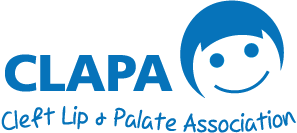 AUGUST 2020 PRICE UPDATE: We do everything we can to keep costs low for the cleft community, but as a small charity we need to keep up with rising costs to make sure this shop can remain open for families affected by cleft in the future. As such, we've increased a number of prices from August 24th. Dr Browns Bottle Packs are now £25 each. Dr Browns teats now come in 2-packs, available for £5 each. UK first class postage is now £4, with CLAPA covering postage costs for orders over £25.
COVID-19: Our office is now closed, but we are continuing to dispatch feeding orders on Mondays and Thursdays. Royal Mail is experiencing severe delays in some areas, so your order may take longer than usual to reach you. Click here for more information and updates.
INTERNATIONAL ORDERS: Due to severely reduced capacity, we are only able to offer NON-TRACKED shipping to Europe & the rest of the world. If you are not able to correctly type your address in the checkout, please email [email protected] with your full address as it should appear on the packet. Due to disrupted postal services around the world, these may take longer than usual to reach you, and we cannot accept responsibility for any delays or undelivered parcels. If you choose to place an order for delivery outside of the UK, you do so at your own risk.
Find out more about the bottles and teats we provide
Read our Retail, Refunds and Returns Policy
Download our latest catalogue (August 2020)