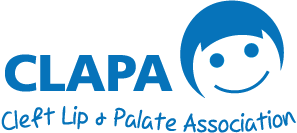 Superhero Competition Takes Off in Awareness Week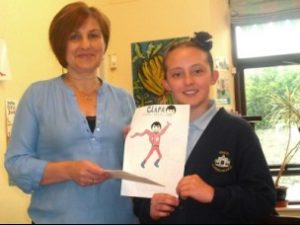 My name is Sarah Thomas and I work as a General Dental Practitioner on the Isle of Anglesey. For the Cleft Lip and Palate Awareness week this year, myself and my colleagues decided to do something proactive to promote the cause and the condition. I have been associated with CLAPA for nearly nine years now – ever since the antenatal diagnosis of our eldest daughter's bilateral cleft lip and palate. I became a Parent Contact in 2008 and last year went on another volunteer training day helped by CLAPA in London. This day gave me fire in my belly to do something to mark the Awareness week.
As I work in a small Dental Practice, it wasn't difficult to get my Principal and my colleagues on board with promotion. However, I wasn't satisfied with just educating my patients. I wanted to try and raise awareness on a larger scale. Therefore, I decided to hold a competition for local primary school children. My problem was – what kind of a competition? To do what? Drawing? Poetry? Stories? Luckily, Louise from CLAPA came up with the perfect suggestion – to create a superhero using the CLAPA logo!!
A letter was sent to all primary schools on Anglesey giving the brief for the competition as well as some information regarding Cleft Lip and Palate. A Prize was on offer for the school and for the winning individual – £40 book tokens for the school and £10 gift token for the child which was donated by the dental practice. We also wrote to the local papers explaining our intent and got the letter published in the North Wales and North West Daily Post. Awareness raising indeed! We got over 100 entries to the competition and the standard of some was exceptionally high. Others were slightly more obscure, but it's all about having a go and taking part!
On the Monday after Awareness Week, the whole practice came together to judge the competition. I stood out of the adjudication process as both my daughters had taken part in the competition as well as some of their classmates and peers. It wouldn't do to show any bias!! Our winning entry was created by Amy Briggs of Ysgol Llanbedrgoch (Llanbedrgoch School) – which is coincidentally where my girls go. Good thing that I wasn't a judge!
The staff particularly liked Amy's superhero toothbrush super tool!
My practice manager, Ann James and I went to the school to present Amy and Mrs. Eleri Edwards, the Headmistress with their prize in their weekly assembly. We were warmly welcomed and Ann was tickled by how friendly everyone at the school was. Apparently, when the information regarding Cleft Lip and Palate and CLAPA was presented to her class, my eldest daughter stood up in front of everyone to say a few words. It's made a huge difference to her confidence.
During the 'Awareness week', we were also selling pin badges and trolley coins in the practice and actively fundraising for CLAPA. We usually have a CLAPA collection box on the reception desk anyway, but for the Awareness week, we were pushing that little bit harder! The waiting room was decked out with CLAPA balloons and copies of CLAPA news were strategically placed amongst our usual reading material! I'm pleased to say that as a result of our patient's generosity, we raised a total of £175 for CLAPA.
I'd like to say a huge Thank You to all at Preswylfa Dental Surgery for their support, to all the schools who competed and took time to promote the awareness of Cleft Lip and Palate, and to all at CLAPA for their support in making the awareness week and the competition such a success. Onwards now to 2014!