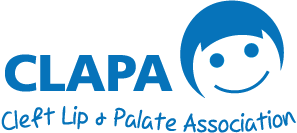 World Smile Day – Sophie, Jadie, and Ivy
This

#FundraisingFriday

we're saying thank you to Sophie and Jadie who are holding a cake sale at their work!
"I work in a nursery so we are having a bake sale morning where parents and staff can come in and enjoy a cake (or two!!) and make a donation or they can buy some to take away. So many staff members have already agreed to make cakes ready to sell. I've also been busy making leaflets and posters to advertise the day and get as many people to come along as possible.
The important thing is, why we are doing it….and the reason is to show support to a great friend of mine and a member of our team at nursery who gave birth to a beautiful baby girl 'Ivy' 5 weeks premature on 30th April 2017. She was born with a bilateral cleft lip and palate which wasn't picked up on the 10 scans she received, but with the amazing cleft team at the hospital and the support from CLAPA she has started adapting and coming to terms with what lies ahead for Ivy. Her first operation is 10th October, just 4 days after 'World Smile Day' which is what makes this day and this bake sale so much more important."
Sophie's friend and colleague Jadie's daughter Ivy was born with a cleft.
"On 30th April 2017, after nearly 14 hours in labour, my little Ivy was born 5 weeks early by emergency caesarean, weighing 3lb 15oz and that is where our CLAPA story begins!!
Ivy was born with an undiagnosed bilateral cleft lip and palate, the most severe cleft you can have. It was a huge shock, but after a few weeks of talking to the amazing cleft team at the hospital, receiving support from the CLAPA Charity and spending time with my beautiful girl, the shock slowly disappeared and we started to forget that she was different to other babies.
She has a lot of operations ahead of her, including her first one which is happening 4 days after the cake sale, which is why this cake sale is even more special.
The common misconception of cleft lip and palate is that it's mostly cosmetic, but in fact it causes many challenges in their lives including using specialised bottles at birth, weaning, speech and language and numerous amounts of operations.
It can be difficult at times knowing what my little girl will have to go through, right up until the age of 20, but then I look at her beautiful big smile, listen to her gorgeous laugh and I honestly would not change her for the world!!
Let's raise awareness for this wonderful charity."