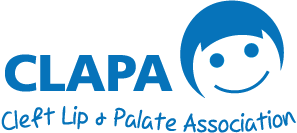 World Smile Day
Our vision is of a society where everyone affected by cleft lip and palate feels supported, connected and empowered wherever they are on their cleft journey. Get involved on Friday 6 October 2017 and help make this vision a reality.
World Smile Day is all about the small gestures that can bring a beaming smile to someone who is having a bad day. Whether it's giving up your seat on public transport, helping someone with heavy bags or a stopping to talk to a homeless person, World Smile Day is your chance to take action and bring a few more smiles into the world.
We need your help to make sure we can not only continue our current services supporting families like Ethan's, but also reach out to the 1,200 new families that join the UK cleft community every year.
Download our fantastic World Smile Day fundraising pack (PDF, 3MB) and help make a lasting difference to the people that need our support the most.
This Friday, help us brighten up the world by sharing your #ReasonToSmile on social media.

Read all about what people have been up to up and down the country to celebrate World Smile Day!