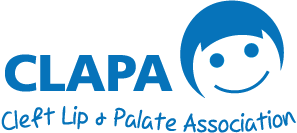 World Smile Day
Our vision is of a society where everyone affected by cleft lip and palate feels supported, connected and empowered wherever they are on their cleft journey. Get involved on Friday 4th October 2019 and help make this vision a reality.
At CLAPA we believe every smile tells a story. Help us make the most of this year's World Smile Day to help celebrate and support our vital work in the UK Cleft Community. 
Join us on Friday 4th October to #RaiseASmile! Request your free CLAPA cake toppers and any other materials you might need to throw a fundraiser at school, college, work, or even at home with a coffee morning.
Short on time but keen to take part? A Facebook fundraiser is the perfect way to share your story and raise funds at the same time! 100% of the money raised goes to CLAPA, and setting up your fundraiser takes just minutes. Why not start your Facebook Fundraiser today?
Get in touch with our friendly fundraising team at [email protected] or use this handy form to request your materials - including CLAPA cake toppers!

A Facebook Fundraiser takes just minutes to set up, and is the perfect way to tell friends and family all about your cleft story. This World Smile Day, why not share your smile with the world?