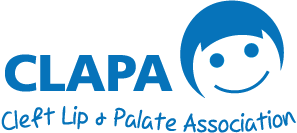 I'm Rosie and have 2 beautiful children and this forms part of the reason why I am running the London marathon this year (2016). I was lucky enough to get the only charity space with the Cleft Lip And Palate Association.
Running for CLAPA means so much to me. As I was growing up I noticed that my dad had scars on his top lip and when I asked, later found out he was born with a 'cleft lip' and didn't think anymore about it. It wasn't really a topic of discussion in our household growing up and awareness was quite suppressed.
It wasn't until Poppy was diagnosed with a cleft lip and palate at our anomaly scan, that I discovered the weight and enormity of what the sonographer was saying and also what my Dad must have gone through growing up. The car journey home for Adam and I was a mixture of trepidation, shock and disbelief. We were told about a charity that could be of support. I wasn't interested in 'dealing with it' at any level, or any capacity of support because I was just feeling…numb. Like anybody, I wanted my baby to be perfect and I was heart broken. I thought it was all my fault and listed and went through all of my actions, blamed my morning sickness and found countless reasons to make it my fault. I was so nervous how I would feel when I saw her, so very worried I wouldn't bond with her or accept her and distraught that I wouldn't be able to breast feed my baby.
I questioned myself as a person, was I really that shallow to worry about what she would look like?
That night, my partner Adam decided to go on the CLAPA website and he found pictures of the most beautiful Children before and after their operation, stories of families who had gone through everything we were feeling. There are also email addresses of couples who offer online support for families who had just been diagnosed. So Adam and I got in touch, they were amazing they answered all our questions.
Over the following months, I began to realise how huge the implications of Poppy having a cleft lip and palate were and wished that they had got the diagnosis wrong. I also felt guilty for feeling negative about it. After all, it wasn't a heart or brain issue and the sentence 'people have to go through so much worse' would echo around my head and would often be said by people, including Adam, who were trying to help me come to terms with it throughout my pregnancy. My main fear was that I wouldn't bond with her and society wouldn't accept her.
CLAPA paid for us to have a 3D scan at St Thomas' hospital. My heart was beating at a million miles an hour and I was so nervous to see her face on the screen but hoped this would be reassuring and help us prepare ourselves as to what the future would hold for Poppy. Although the images were incredible, they made the issue seem worse. The visible hole where her lip should be, looked so vast. They confirmed that she did in fact have what's known as a 'unilateral complete cleft' meaning a cleft through her lip/gum line/hard and soft palate.
After a relatively traumatic birth the cadence of which resulted in an emergency c-section, I got to see her.
My beautiful baby girl.
The moment I first Saw Poppy I fell in love with her immediately. To me, Poppy was perfect. Our perfect little baby girl. Apart from a difficult few days in NICU, the first few months were just…normal.
People did stare and ask questions. Some didn't, some laughed and some children were frightened. Once people knew what it was all they really wanted to know was more information.
Questions such as what they do to correct it? When and how we found out? How we feel? How we felt? Can she eat? Will she ever be able to speak? Will they be able fix it? 'Can she be cured?' was our personal favourite. What I started to realised is that there needed to be more awareness spread about clefts.
I didn't want her to have her first operation. She was 5 months old and I didn't want anybody to change the face she was born with. When she came into recovery I saw her new face and she was still our Poppy, still perfect and now blessed with a new smile.
Sure enough, we fell in love with that just as we did the day she was born. The two surgeries also made us feel a little guilty, that feeling of putting your little one through pain…and seeing their facial expressions just before surgery is not something that makes me feel particularly comfortable, despite all of the medical professionals being superbly gifted and kind.
Poppy is now a happy 1 year old having had two operations already! She has had her lip and her palate operation. She will continue to have surgery on her gum and have to have extensive dental care and possible jaw surgery over the next 21 years at which stage – she will be discharged from St Thomas' hospital. Apart from the occasional appointment now, there really is nothing extraordinary about it whatsoever. The work the surgeon (Professor Piet Haers) has done is extraordinary. The way that Poppy has adapted is extraordinary. The way life for her is a 'new-kind-of-normal' now is extraordinary. The way that people used to stare at her and now don't is extraordinary. The lady in the Science museum who pointed at her, a two month old baby, and encouraged her family to laugh along with her was extraordinary. But our day to day living is identical to that of a Child who hasn't been born with a cleft lip or palate.
Poppy can say 'Daddy' now and is forming words with no problem. She also has a very good friend – her Grandad, they are 'joined at the lip.'
The support and guidance CLAPA has in place for parents and children born with these conditions is amazing. I feel so moved and privileged to run the London Marathon for them. It is obviously so close to my heart and I am running for all the families out there who have been through or are about to go through the Cleft journey! And, of course, all of the beautiful children, who happen to have been born with a cleft lip and/or palate.