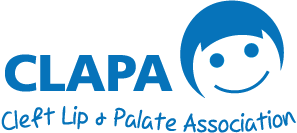 Thomas started his 'journey' in June 2011, and unlike other little boys and girls he was born with a cleft lip and palate. The following series of photographs will help you track his life and progress over the last 2 years, starting with the first when he was just a couple of weeks old and still has his feeding tube in.

He started by being tube fed and then, as he learned to suck he was bottle fed with anything left when he was tired being put down the tube. By a month old he had got rid of the tube as a combination of sucking and squeezing meant he could take a whole feed from the bottle. The following photo was about 3 months, when he was starting to smile.
This next photo is at five months – he had just had his lip repaired and they had recently found he needed to wear glasses.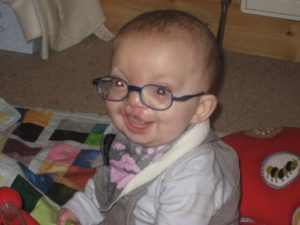 In the next photo he was just a year old – he loves playing the piano (he obviously gets this talent from his grandfather).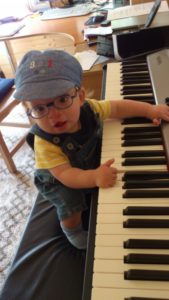 The next photo is at Christmas 2012 where he was playing peep-bo in his Union Jack tent – he'd had a big cleft palate operation just a couple of months before.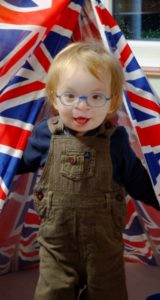 The next is on his 2nd birthday in June 2013.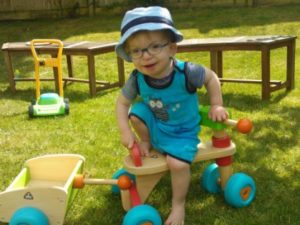 The final photo is at the CLAPA sponsored walk in Hyde Park (he was collecting all the balloons others did not want).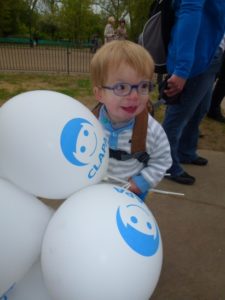 My chosen charity – CLAPA – has come about from a personal interest in the development of Thomas together with an experience of a school friend's daughter being born with a cleft palate some years prior to this, together with a desire, coupled with medical advancement, to help others in a similar position.
My target is for people to either make a single donation or to sponsor me 5 pence per pound (maximum weight loss during the period = 70 pounds (equivalent to a total of £3.50 per sponsorship). I started the diet on 2 September 2013 and intend continuing through to 30 May 2014. If you are a UK tax payer please "Gift Aid" your donation to take advantage of the generosity of the Taxman (it makes such a difference)!