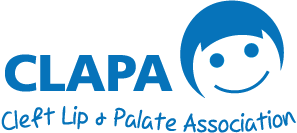 Julia did a sponsored walk during Step Up for Cleft Lip and Palate. She decided to fundraise for CLAPA  after receiving support and returning to Cleft Care treatment as an adult. We caught up with Julia about her dental journey and how cleft care has changed since she was a child.
"I wanted to do this challenge as I am an adult who has returned to Cleft Care 31 years after being discharged!
I came across CLAPA while researching via Google after an extremely traumatic dental experience last year. As a result of what I found out from CLAPA (thank you SO much), I got myself referred to a Cleft Team and have met the team and am now on a journey with the restorative dentistry team and may well seek another appointment with the plastics team once I'm further along the journey.
I am so reassured that I can receive treatment and care again as an adult, and I wouldn't have known this without CLAPA!
As a 56-year-old last year, I had always thought since my discharge all those years ago that I just had to live with it. The team at the hospital has been great, and I am receiving the care I need from the restorative dentistry team.
I am on the waiting list with the psychology team – something that wasn't available when I was younger and going through the struggles of a young person with a cleft.
I am reassured (as is my now 88-year-old Mum) that people with cleft now get so much better support and guidance for themselves and their families, which was unavailable years ago.
This resulted from CLAPA's fantastic work, so I took the challenge. I have also 'enrolled' some new CLAPA Champions/regular contributors as a result of finally being able to talk about my cleft and raise awareness.
I regularly attend the CLAPA Lounges, which I find both interesting and informative, and it is nice to be able to talk freely to 'fellow cleftees.'
Keep going with your great work- it is much appreciated!"
Thank you, Julia! If you have been inspired to fundraise for CLAPA find your next challenge today.