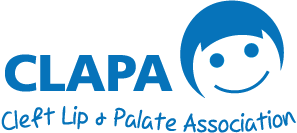 Golf Captain Smashes Fundraising Targets!
Steve Wright has been captain of the Bungay & Waveney Valley Golf Club in Suffolk since December 2011, and as his daughter Sophie was born with a cleft lip and palate twenty-five years ago, he chose to use this fundraising opportunity to support CLAPA.
The Club held a charity week and a few other events, and thanks to Steve's dedication, this was a fantastic success!
In Steve's own words:
"As you know my Sophie was born with a bilateral cleft lip and palate, so soon as I realised I was becoming the captain I decided that this would be the time to help other people be more aware of the help available, as when Soph was born there was little help available."
"So the One Gallon Charity Bottle was set up which was adorned with the CLAPA literature supplied by yourselves. This was one of the main sources of income, and the other big source was my Captains Charity Day where invites are made to most clubs in the area and was attended by 24 teams of 4. This and the raffle of prizes donated by various members and guest players enabled me to raise over £1,900 that day alone!"
"The Harleston Lions Golf Day at the Club is a very big charity day for them, and always ends in a donation to the Captain's charity of £500."
"My Captain Charity Week and various other events including the final charity event of the year, 'The Worthy Cause', also swelled the coffers."
"The remainder was donated after a lot of encouragement from me, and came from the generosity of the members and their guests into the charity bottle."
"It made me feel very proud to raise such a large amount for CLAPA and I am sure you will put this to very good use!"
We'd like to say a HUGE thank you to Steve and everyone who got involved at the Club, whether it was through donating or helping to put on these events. A grand total of £4,195.72 was raised, and our volunteer Julie was thrilled to be able to speak on our behalf when she went to collect the cheque.
She wrote: "I quoted from the CLAPA website – we're aiming for "quality of life and opportunity" for people with clefts. That's what motivates me to volunteer. As I said last night, things have improved over the years, but it is still a shock for parents when they learn their child has a cleft, CLAPA works with young people to build confidence, and has moved from its original parent driven basis to try to support people from cradle to grave. It has been helpful to me to "come out" and talk about what it's like, and let other people like me know that they're not alone."
CLAPA really could not exist without people like Steve supporting us, and people like Julie helping us to say thank you.
Would you like to get involved as a fundraiser or volunteer? Get in touch with us and we'll help you out every step of the way.