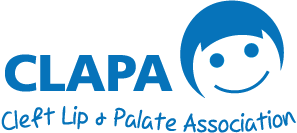 Congratulations to Emma, who raised £646 + £134 in Gift Aid by completing three races for CLAPA.The latest is the Great North Run! Emma shared her journey with us and what inspired her to fundraise.
"I wanted to raise money for CLAPA as this charity has helped us so much over the last 12 months.
I had a very much planned pregnancy with Ryan due September 2022. What was not planned was finding out about Ryan's cleft at our 20-week scan. I felt like the world had dropped beneath me.
However, what happened next was this wonderful charity stepped in to guide us every step of the way, along with the fantastic cleft team at the RVI Newcastle.
From the get-go, every bit of information we needed was provided by CLAPA. It was reassuring in a very uncertain time.
After Ryan was born, CLAPA offered a wide range of services and workshops to help guide us along Ryan's cleft journey and the operations to come.
This charity is invaluable, and I felt compelled to help once our journey began. The best way I could do this was to raise money by doing what I love: running.
We have the best races throughout the year in the North East, including the infamous Great North Run. So I made it a mission to run in the North Tyneside 10k (April 23), the Blaydon Race (June 23), and finishing off with the Great North Run (September 23).
I set up my Just Giving page, setting a target of £500, and let the world know what I was planning to do in aid of Ryan/CLAPA. As I felt it was the least I could do.
I completed the 10k race in 1 hour, 5 minutes. Then the Blaydon race in 57 minutes and the GNR in 2 hours 27 minutes.
The blood, sweat, and tears were worth it when I smashed through my £500 target, totaling £646 by completing all three races.
As said, the support from CLAPA is invaluable and should be recognised. Anyone wanting to help this charity by fundraising should do so to help families like us who need guidance, support, and love through our child's cleft journey.