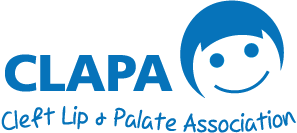 CLAPA Named 'Charity of the Year'
CLAPA has been named "Charity of the Year" by the Artemis Charitable Foundation and received an amazing £25,000! Neil Ramsey, who works in the Edinburgh office of Artemis Investment Management, nominated CLAPA for the award after we supported him and his family following the diagnosis of his son, Alexander, with cleft lip and palate.
"We've been blown away by the care we have received and I'm glad that I could indirectly do a little bit myself to help those in the same situation that we find ourselves in…[Alexander] is doi
ng very well, 5 weeks on from his first op and we are delighted with how he is progressing and developing."- Neil
Four charities were shortlisted for the award, with a staff vote deciding the winner.
"It is great to be supporting CLAPA via our charitable foundation. Our staff overwhelmingly chose CLAPA to be their Charity of the Year and we are delighted to support them in the excellent work they do and the profoundly positive impact they have on so many families."
– Lindsay Whitelaw, Chairman of The Artemis Charitable Foundation
A huge thank you to Neil and the staff at Artemis for voting for CLAPA. As a small charity, these funds will go a long way towards supporting our work for parents and families affected by cleft.