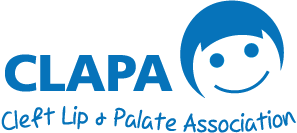 CLAPA Ambassador Joins 'The One Show' Rickshaw Challenge For BBC Children In Need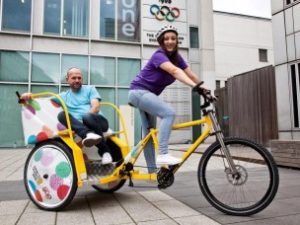 Sixteen year old Eleanor Pedrick from Upminster in Essex has been selected as one of the riders for The One Show's Rickshaw Challenge; a seven hundred mile journey across the UK to raise money for BBC Children in Need.
Eleanor was born with a bilateral cleft lip, and faced teasing at school on top of numerous surgeries and hospital appointments. Now, she is actively involved in CLAPA's Children and Young People's Council which puts the needs of young people with a cleft in the UK at the top of the agenda, and she has also trained as a peer mentor with CLAPA. It is only through a generous grant from BBC Children in Need that CLAPA's services for children and young people (including family days and confidence-building residential weekends) are funded, and now Eleanor is helping to give back by raising money with the Rickshaw Challenge which she is completing alongside her father, Keith (47).
From the BBC:
Broadcast on The One Show through October and November, Eleanor will become a regular on the nation's TV screens as we follow her progress with the group, as they take part in The One Show's biggest and most difficult challenge ever. For the first time riders will visit all four UK nations, pedalling through the night to cover approximately 700 miles and raise money for disadvantaged children and young people across the UK. The team will ride around the clock, facing challenging terrain and potentially harsh winter weather conditions.
'Team Rickshaw' will be made up of five young people, each supported by projects funded by BBC Children in Need. Four of the riders – including Eleanor – will be partnered with a parent, while One Show presenter Alex Jones will make up the tenth member of the group. Rickshaw veteran Matt Baker will also support the ride, acting as a mentor and cycling alongside the riders on their eight-day journey across the UK. As those who have benefited from the charity's work first hand, the young riders are undertaking the challenge to raise as much money as possible to help other young people across the country.
Beginning on Friday 8th November with a journey through Northern Ireland, the team will cross the Irish Sea before pedalling through Scotland and England into Wales. Finally the team will return to England, finishing at BBC's Elstree Studios live on the BBC Children in Need Appeal Night on Friday 15th.
Speaking of the challenge, Eleanor said: "Being born with a cleft lip really knocked my confidence, as I felt like no-one really understood. I'm much more confident now, but it's been a long journey. I'm doing the challenge with my dad and am so excited. I'm ecstatic, I genuinely can't wait!"
Alex Jones said: "This is going to be one of the toughest things I've ever done, and we will all have our work cut out for us. Cycling through the night will probably be the hardest part. Having supported the Rickshaw Challenge before, I know first-hand what a difference the public support can make, so please, please donate and, even better, come out to the streets to cheer us on!"
Matt Baker added: "As a rickshaw rider myself I know what lies ahead for the team, so the advice I'm giving them is a little sugar coated at the moment, otherwise they might not turn up! I only hope that the UK gets out on the streets as they have done in the past; it's this support that will get them to the finish line. I'll be cycling alongside through all four nations so I hope to see you waving – even if you can't sleep, come and see us as the team will be rickshawing around the clock! Thanks in advance for your support, here's to raising a fortune!"
Having raised in excess £3.5 million for the charity to date, the team are hoping that with the increased distance, journey into all four nations, and around-the-clock pedalling, this year's extraordinary efforts will help capture the public's attention and raise more than ever before.
Both Eleanor and Keith have been training heavily since they were selected for the challenge, and Eleanor is also a keen dancer, having starred in a range of productions. As an ambassador for CLAPA, Eleanor sits on their Children and Young People's Council, which meets quarterly to discuss fundraising and events. She also listens to and advises other young people who are affected by similar situations. Currently at sixth form college, Eleanor has hopes to become a speech and language therapist.
David Ramsden, BBC Children in Need Chief Executive, said: "This is an enormous challenge – covering some 700 miles is an immense task in the tough November weather! The young people are doing this for one purpose and that is to raise as much money as possible to help BBC Children in Need support projects right across the UK. I do hope everyone will support them."
One Show viewers will be able to follow Team Rickshaw's progress each day, and updates will also be available online at bbc.co.uk/pudsey and follow the team on Twitter via #TeamRickshaw, as they travel across the UK.
To support the challenge and donate £5, text "TEAM 'to 70705. Texts cost £5 plus one standard rate message; £5 will go to BBC Children in Need. Go to bbc.co.uk/oneshow for full terms and conditions. You must be over 16 and ask the bill payer's permission.
We're very proud of Eleanor for all the work she's done since joining CLAPA, and we can't wait to see her on TV raising awareness and funds for the fantastic work BBC Children in Need do in supporting causes like ours.
Make sure you catch the short film about Eleanor and her dad at 7PM on Tues 5th November on The One Show!
The BBC Children in Need 2013 Appeal Show will be on BBC One on Friday 15th November. We'll certainly be watching!