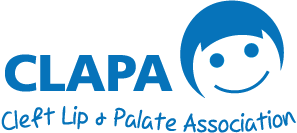 Ashleigh, Brad and Arthur's Story

From diagnosis to lip repair surgery and raising £2,500 for CLAPA, Ashleigh reflects on Arthur's cleft journey so far and hopes for a world where more people are cleft aware.
Our journey began in August 2020 when those two lines appeared. We had our dating scan in October confirming we had a happy, healthy baby and our anomaly scan in December. That's when our baby's cleft was identified. With no family history of cleft, of course we wanted answers to the questions almost every family asks: 'why us?',  'what happened?' and 'did we do something wrong?' The most difficult part was that no one could give us those answers.
Weeks passed and further scans were carried out but my excitement about going for a scan had disappeared. However, the care from our Cleft Team has been and continues to be outstanding. Fast forward 20 weeks of dealing with a mix of emotions, feeling jealous of other families being able to buy standard baby bottles (something many people take for granted) knowing I couldn't prepare as my baby required a feeding assessment first, trying to google answers to questions no one understood, spending hours upon hours on the CLAPA website to gain further knowledge and understanding to try and prepare for what our bundle of joy had in store for us.
In April our surprise bundle was welcomed into the world, our beautiful baby who was perfect in every single way! All of those emotions, anxieties and worries about not knowing suddenly disappeared. Arthur was cheeky from the day he was born and struggled to feed, requiring to be tube fed initially but trial and error got us to the point Arthur was drinking with specialist bottles and this meant no more tube feeding! 4 days in hospital and we were home, and Arthur continued to gain weight which was amazing!
We decided to use dynacleft tape to prepare his muscles for surgery which he tolerated fantastically until he realised he could snap the middle piece which turned into a game!
Then we reached the magic 10 pound in weight meaning he was at a substantial weight for his first operation to go ahead.
As a parent you will never forget the heartache and pain of handing your little 17 week bundle of joy over to an operating team, knowing that his little face would never be the same but subconsciously knowing it's the right thing to do. The hours Arthur was away from us felt like days but we got the call for one parent to go and collect him from recovery and the difference was unbelievable, something you can not prepare for! After an unexpected week stay in hospital as Arthur decided to be a troublemaker and not feed we finally got home. Arthur is thriving and from 5 months old he started to wean and transfer to using a beaker cup in preparation to be off his bottle for his next operation.
We decided to do some fundraising and called it 'Arthur's Challenge for CLAPA'. Part 1 consisted of Arthur's dad circumnavigating Ullswater in the Lake District in an incredible 5 hours and  30 minutes. Part 2 was Arthur and his family walking and hiking the Ullswater Way, totaling 18 miles with a 6 month old Arthur in his carrier on our backs!
We set up a fundraising Just Giving page on our Facebook which told our story, which was shared by ourselves as well as our friends and family. Initially we set a goal for £300 but this was exceeded and overall we raised £2,500 for CLAPA!
This is only the start of Arthur's cleft journey with further operations in the future, but we are proud to not only be parents but to also be parents of a child born with a cleft. If we raise awareness to just one person, we have made a successful difference to being a cleft strong family!