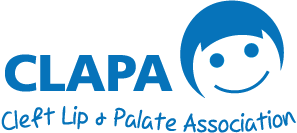 40 years of CLAPA: An Interview with Gareth Davies

Gareth Davies, co-founder of the European Cleft Organisation (ECO), was CLAPA's first staff member, and led the charity as CEO from 1995 until 2008.
During Gareth's governance he acted as an advocate for patients and parents affected by cleft, making sure their voices were heard during reviews of the UK Cleft Care service in the late-1990s. This review resulted in the launch of restructured, centralised NHS Cleft Teams in 2001. Gareth's time as CEO also saw Carol Vorderman join CLAPA as a Patron in 2001, our first ever young people's Residential Weekend in 2002, the creation of the specialist MAM squeezy bottles, the launch of free 'Welcome Packs' of bottles and teats for new families, and our first Adults' Conference in 2007.
"It feels like hundreds of years ago now," Gareth admits. He's calling from France. A founding member of ECO (European Cleft Organisation), his current work centres around improving cleft care, information and support internationally across Europe.
"Before CLAPA, I had worked with Amnesty International and as part of a charity that addressed homelessness, so I had experience representing people's voices and advocating for them," he explains. This would come to be a crucial part of his role at CLAPA.
He saw the advert in a newspaper; CLAPA's First Ever CEO. Having been born with a cleft lip and palate himself, it caught his attention.
"I thought 'I know something about cleft'," he explains. "Though despite personal experience, I wasn't sure how much."
It turned out to be, in his own words, quite a steep learning curve.
"This was parents!" He chuckles. "It was so different to my personal experiences and it was all new to me.  I was on the phone to parents a lot and I was always happy to share my own experiences of being born with a cleft. People who have just had a diagnosis need facts, they need information right away, so I'd tell the good and the bad and not shy away from anything."
He has mostly moved away from the more one-to-one side of support work in his more recent work, but it's a part of his career he remembers fondly.
"It was striking how the more parents we could support one-to-one, the more it notably helped childhoods."
When he accepted the role of CEO in 1995 Gareth also became CLAPA's first paid staff member.
At that time, there was no CLAPA office and no centralised team. From 1979 to 1994, CLAPA was made up of a group of dedicated volunteers based separately all over the UK. Working from home or, in the case of the dedicated feeding service volunteer, from a small garage in Essex, they worked as a coalition of parents, patients, clinicians and trustees to support the UK cleft community. Task number one on Gareth's first day was building his desk in a spare room at home.
"In those early days CLAPA was so disparate," Gareth explains. "Aside from me, there were the Branches across the UK and then there were the National Executive Committee and the Trustees. A lot of my work to begin with was seeking legal and HR advice. There were a lot of changes coming into effect that CLAPA needed to keep up with."
With hard work by Gareth, CLAPA's Trustees, and committed volunteers across the UK, the charity started to grow. Within a year of Gareth's time as CEO, the first CLAPA office was opened in central London and further staff were hired to develop CLAPA's services. As relationships were established with other organisations and official bodies, CLAPA won funding for a brand new feeding service to help babies born with a cleft, and for young people's activities to bring people together and create a sense of community.
In such a small organisation, all staff and volunteers were hands-on and behind the scenes they were working equally as hard to secure further funding and to represent patients' voices as UK Cleft Care came under review.
"We had to think as the parent of a child with a cleft who gets stopped in the street by questions, or a person who themselves might look a bit different and find this affects their day to day life, and think 'OK, you are this person, what are your needs'?"
In Gareth's mind, the areas CLAPA needed to focus on were three-fold; the standard of cleft care itself, education around cleft, and how the world reacts to cleft, be that in person or in the media.
In the early years of CLAPA, a number of new information leaflets had been developed and produced to help inform health professionals and parents. The next steps were to make the voices of those affected by cleft in the UK heard, both in healthcare and the media.
The Standard of Care: The Clinical Standards Advisory Group (CSAG)
Creating space for discussion and making patient voices heard has always been a key part of CLAPA's work.
As CEO, Gareth built strong relationships with policy makers as part of The Clinical Standards Advisory Group (CSAG), a UK-wide board committee established to review of the standard of care and the success of treatment for patients born with a cleft.
"The relationships CLAPA developed with health professionals were exemplary," Gareth explains. "Parents really did become part of the heath care teams and that's always been CLAPA's success; joint working between health professionals, parents and patients."
To Gareth, it was clear that the charity's next crucial task at the time of his appointment was to make sure the standard of cleft care in the UK was checked, upheld, and improved where needed.
"When groups of different people work together, including clinicians, everyone is part of the Cleft Team. That's what will carry us forward into the next 40 years."
CLAPA's input began with a nationwide parent survey on cleft care in the UK in 1996, which was then fed into the much bigger clinical outcomes and patient/parent research being undertaken by CSAG.
"Working to create the report itself was relatively quick to do. It was the implementation that took a long time. It was difficult and it did cause some upset, as people had such personal stakes in the results," Gareth admits.
"The tough part of this was selecting the centres that were to become designated cleft centres. Every parent puts their trust in the hospital that cares for their child and in drawing up a list of new designated centres we knew that many hospitals would be left out. Parents who had children treated at the centres that were to be excluded understandably found this distressing."
Gareth and his colleagues at CLAPA were keen to reassure the community as much as possible, even whilst being sure that change was necessary.
"It was a bit of a double-edged sword really, to get the point across about what needed to change in order to make improvement possible, but at the same time to not distress parents and families."
By 1998, the NHS Cleft Teams were planned more or less as we know them today, and by 2001 had been launched as a reformed, centralised service.
From the original 57 cleft care centres, there are now 9 Cleft Services around the UK
Read more about how these changes have affected outcomes in the UK
Gareth remains proud of CLAPA's role in championing patient voices, and notes the outcomes; increased emphasis on psychological support, a holistic approach to care by a multidisciplinary team and establishing of the vital role of Cleft Nurse Specialists.
Gareth is quick to acknowledge that, whilst the NHS Cleft Teams have had a positive impact on the standards of cleft care in the UK, CLAPA's role remains crucial.
"With some disciplines still challenged by funding issues and limited awareness, like Speech and Language therapy and diagnosis, CLAPA's services remain vital," Gareth considers. "As government cuts threaten services, CLAPA must still be key; a strong voice in the background."
MAM UK and The first 'CLAPA Kids' Camp'
As the standard of care was addressed and new sources of funding were sought out, CLAPA's work broadened in the early 2000s to increase support to new parents and carers of babies born with a cleft, and young people born with a cleft.
CLAPA's feeding service is still a huge part of the charity's work today. In 2003, new 'Welcome Packs' were developed, to help families affected by cleft across the UK. It was a point of celebration for the charity and the result of much hard work from all involved.
"It started through the relationship CLAPA built with MAM. Beth Wills, a health professional involved with CLAPA, put in a lot of dedication into researching feeding needs and building ties with MAM and the result was new bottles, produced to spec, especially for children born with a cleft."
After securing funding for the first, set amount of Welcome Packs, CLAPA launched a new fundraising campaign to fund Welcome Packs as a long term service, encouraging donations to 'make a lasting difference' to families affected by cleft.
The results were fantastic and Gareth remembers a big reception held in celebration of this new branch of CLAPA's work.
"It's the nature of a small charity," Gareth explains. "Something exciting comes along and there's a 'big win' and it feels like nothing can go wrong, then five years later something comes out of nowhere and you're struggling again. It's a combination of careful planning and luck that's needed, and it felt important to celebrate when that came together."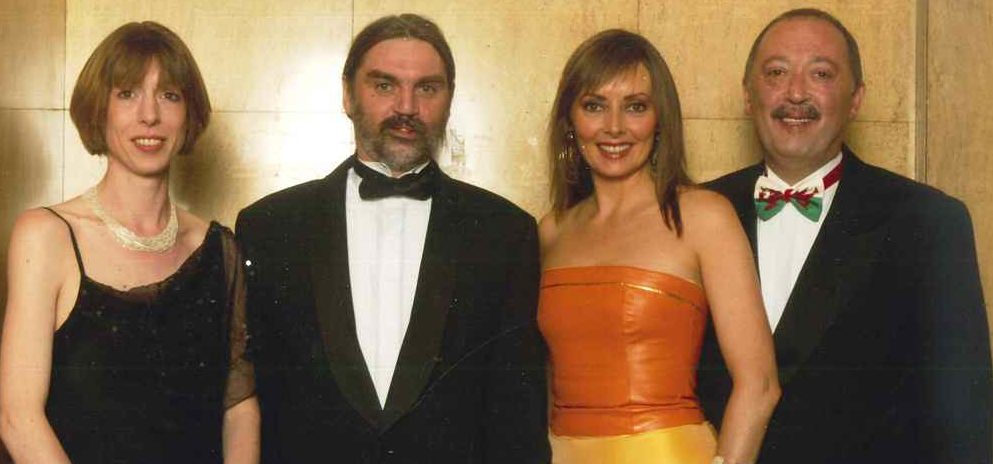 Read more about CLAPA's Welcome Packs
In 2004, Gareth joined a small group of children and young people on CLAPA's first Residential Weekend.
"It was so nice to see the difference something as simple as these camps could make," Gareth remembers. "There was no organised therapy going on, but the kids kind of covered that themselves just by spending time with each other."
Gareth remembers on young person who originally didn't want to go to the camp, and was initially reluctant to join in, but who changed his mind after finding out Gareth himself had been born with a cleft.
"He came over to me towards the end of the trip, and I was happy to tell him about my experiences," Gareth chuckles. "He was delighted!"
CLAPA still run adventure days and weekends for young people to this day, working to improve self-esteem and tackle isolation.
Representation in the media: Carol Vorderman becomes patron
As services developed, CLAPA seemed to be going from strength to strength. The next step was to raise awareness.
An opportunity to bring cleft in the UK into the public eye arrived somewhat by chance. Reading a Sunday newspaper, Gareth saw an article interviewing Carol Vorderman about cleft lip and palate, which explained Carol's brother Anton had been born with a cleft and what she and her family experienced as a result. The CLAPA team reached out to the paper, and with persistence were able to reach Carol's family. She was delighted to get involved and has since been CLAPA's patron for almost 20 years.
"It was wonderful to have her on board," Gareth recalls. "She was high profile, appearing on game shows, championing CLAPA in ITV's 'Get Up and Give' campaign. When things were frugal, and there were always ups and downs with CLAPA being a small charity, we had a friend to turn to who could help share our messages and mission."
What's Next?
Many of CLAPA's current services and projects began in Gareth's time as CEO. From sending out free Welcome Packs to families to help with feeding and information, to CLAPA's Adults' conferences, the first of which took place in 2007 shortly before Gareth's time at CLAPA came to an end.
Looking forward to the future of CLAPA, Gareth would like to see the charity maintain its current services.
"There's lots we can dream of but ultimately we need to make sure what's been achieved is sustainable."
With the threat of government cuts and a difficult financial climate in the face of political uncertainties, Gareth is keen to see CLAPA work to remain a vocal advocate for those affected by cleft and the much needed resources of the NHS Cleft Teams.
"I think psychological support is so important and what Cleft Nurses do has such an impact," Gareth says. "With careful planning and selective lobbying to reach the right audiences, CLAPA can help protect these services."
Most crucially, he'd like to see the historical collaboration between health professionals, parents and patients continue.
"Once CLAPA's services are sustainable, you can focus on the broader societal outlook. What's important is to recognise what it takes to help a child born with a cleft thrive. When groups of different people work together, including clinicians, everyone is part of the Cleft Team. That's what will carry us forward into the next 40 years."