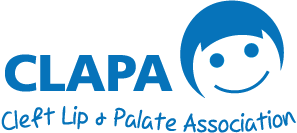 Our CLAPA volunteers are amazing! We couldn't survive without such dedicated and caring people giving up their time to help others. And no matter how much time you have or what your skills and interests are, there's a role to suit you. Most of our volunteers are home-based but meet us and their local group or cleft team regularly. The hours you volunteer and how much you do is entirely up to you.
Interested in applying?
We ask all volunteers to complete an application form, and for all volunteer roles your travel and other expenses are reimbursed, full training and induction is provided and you are fully supported in your volunteering with us.
Once your application has been accepted a CLAPA team member will be in touch to invite you to one of our Induction and/or Training days. These are held at regular intervals across the country so there should be one local to you. These cover all of the roles available, CLAPA policies and procedures, information, knowledge and practical skills needed to carry out your role, plus a chance meet other volunteers and staff!
What kinds of  Volunteer Roles are available?
We also need volunteers to help run Branches and Happy Faces Groups. Our guide to Starting a Group explains how!
Already volunteering for us?
If you have any queries at all please don't hesitate to ask – copies of relevant forms and details of all policies are made available to you as part of your training and induction and in our Volunteer Handbook
Quick summaries of our relevant volunteer policies are provided below.
Use of CLAPA logos, charity number and branding
CLAPA is a registered charity and company limited by guarantee. Our logos and branding are protected. Therefore we ask that you please only use official CLAPA merchandise – leaflets, posters, t-shirts etc. (which can be ordered from us) and that when fundraising for CLAPA you always quote our charity number. Templates for letter-heading, our CLAPA and funders' logos etc. are also available, please just ask if you need them.
Expenses
We reimburse you for any reasonable out-of-pocket expenses. We'll only reimburse the amount that you have spent as a result of your volunteering, up to agreed maximum levels. Tickets and receipts must be provided in order to claim these. Currently we pay for standard class train/bus fares, 40p per mile for petrol (please see our expenses policy for full details) some childcare/accommodation costs where applicable and up to £15 for an evening meal if you are out on CLAPA business.
Volunteering & benefits
As long as you only receive out-of-pocket expenses there should not be a problem with volunteering while on benefits. However if you are on benefits we ask that you inform JobCentre Plus before volunteering.
Health and safety
We are committed to the care and wellbeing of everyone who works and volunteers for us or uses our services. All voluntary activities are covered by the same health and safety legislative requirements as those for employees. It is your personal responsibility to maintain health and safety standards in order to provide a safe working environment for all. Suitable risk assessment(s) must be prepared for all activities being carried out for CLAPA. Therefore please comply with all relevant instructions and procedures relating to safety and follow guidance provided by us or the organisation where you volunteer (e.g. in a Cleft clinic in hospital). We have a strict no-smoking policy which covers staff and volunteers in all CLAPA roles.
Staying in touch and resolving day to day issues
Your designated Regional Coordinator or Volunteer Development Officer is your first point of contact for keeping in touch and dealing with day to day issues. However any staff member will always be happy to help. Most of our volunteers are home-based and although you will probably meet up regularly with other volunteers and staff it's important to stay in touch. As a volunteer you'll receive our e-updates, newsletter and an invitation to our annual conference, as well as attending local Branch meetings and/or regional development days.
Complaints & feedback
We are fully committed to listening and responding to any feedback, comment, concern or complaint. We will make every effort to actively respond as soon as possible and any concern or complaint, no matter how small, should be raised with your Regional Coordinator, Team Administrator or the Director of Development as soon as possible. We want your volunteering experience to be as happy and enjoyable as possible!
Contacts:
Director of Development – Claire Cunniffe, claire.cunniffe@clapa.com
Team Administrator – Anum Ahmed, anum.ahmed@clapa.com, 020 7833 4883 (ext: 202)
Regional Coordinators 
Central England – Claire Evans, claire.evans@clapa.com, 07792 772362
East of England – Hamza Anwar, hamza.anwar@clapa.com, 07772 684 398
Scotland – Gillian McCarthy, gillian.mccarthy@clapa.com, 07586 045402
South East England (including London) – Cherry LeRoy, cherry.leroy@clapa.com, 079855 38982