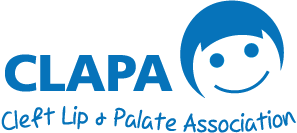 Wendy Williams Mocks Cleft on Talk Show
The Cleft Lip and Palate Association (CLAPA) was shocked and sickened to see the recent clip of US talk show host Wendy Williams mocking the appearance of people born with a cleft lip earlier this week. This exchange begins around the 11 minute mark.
Actor Joaquin Phoenix was born with a 'microform cleft', a mild form of cleft which often doesn't require surgery, but which leaves a small groove in the upper lip similar in appearance to a scar left by a surgical cleft lip repair.
In discussing the actor's appearance, Wendy Williams pulled up her top lip for several seconds, a gesture all too familiar to those born with a cleft who may have seen playground bullies do the same thing. While doing this, she said she "finds it very attractive", but in a tone that suggested it's anything but. The audience laughs uproariously at this comment, another deeply unpleasant reminder of the serious real-world consequences of a public figure like Wendy Williams singling out a group of people – including newborn babies – as targets for mockery.
This thoughtlessly cruel act has horrified people around the world affected by cleft lip and palate who know full well the reality of this condition.
One in 700 babies are born with a cleft. It is a condition which cuts across all sectors of society and can affect any pregnancy. These babies and their families face a grueling treatment pathway involving multiple surgeries. Sadly, stigma, prejudice and isolation are experienced by many children and young people growing up with a cleft, leading to struggles with self-esteem that can last a lifetime.
In a 2015 study of 15-year-olds born with a cleft, 42% reported bullying at least daily, 50% reported sadness, 31% depression, and 26.3% felt marked for life. CLAPA's 2014 survey found 97% of adults with a cleft lip said they looked visibly different to others, with 72% saying this had a negative impact on their lives, and many commenting that they had experienced rude comments, ignorance, and even outright bullying, for which there was little support.
Organisations like CLAPA work extremely hard to support and empower people affected by cleft, to give them the tools and confidence they need to face the world with a smile. But all this work can be undone in moments with a single, thoughtless act like this. With a gesture and a snide, dismissive comment, Wendy Williams has broadcast to her viewers around the world that it is not just acceptable but hilarious to insult people about a condition they were born with.
Hundreds of people in our community have taken to online support groups to voice their outrage. In particular, adults born with a cleft who say that Wendy Williams' actions affected them deeply.
"I believe this will stay with me forever. I will never forget a celebrity on national television making fun of my birth defect, with a laughing audience. […] And the gesture she made, I have seen that same gesture directed towards me by peers and adults alike my entire life."
"This video made me cry. Brought back so many bad memories I wished to never hear again."
"Many people living with a Cleft Lip and Palate have faced bullying of some kind, this gesture that Williams proceeds to do is one many faced as young children or even in adulthood. Ignorance is always going to be around, but to be directly faced with this on a popular daytime show with no real consequences has resulted in me writing this post. She disregards Phoenix's brilliant acting in both 'The Joker' and 'Walk The Line', but instead chooses to attack his physical appearance as if that's got more value! Perpetuating this notion that you're only valued by your appearance. Particularly, one which needs to conform to society's version of 'perfect' or else 'we will make fun of you', is disgusting and she should be called out on it."
People affected by cleft deserve better than this. We sincerely hope that Wendy Williams understands that her actions do not exist in a vacuum, and that as a public figure with such a wide sphere of influence on society, including children, she chooses to be responsible and make amends.
The Cleft Lip and Palate Association (CLAPA) are calling on Wendy Williams to issue an unreserved apology on her show for her ignorant, irresponsible actions, and to dedicate time on her show towards making her audience aware of the reality of cleft lip and palate in the USA and around the world.
Update: 16/01/20
Wendy Williams has apologised over Twitter, and we have responded.
A tweet encouraging your viewers to 'learn more' does very little to make amends for the damage done by just 10 seconds of your show broadcast to millions. Your offensive actions were on air; your apology should be on air as well. https://t.co/i1fRfM2Y7d

— CLAPA Community (@CLAPACOMMUNITY) January 16, 2020
What Can You Do?
We invite anyone from the global cleft community with concerns about this clip to get in touch with the Wendy Williams Show directly.
Our Patron
We would like to thank our Patron Carol Vorderman for her ongoing support of our community and for bringing public attention to this issue.
As Ambassador for Cleft Lip and Palate Association @CLAPACOMMUNITY I really am disgusted by this @wendywilliams.. Mimicing a cleft lip, and making a joke about it, is disgraceful. Have you any idea the pain and operations a child with cleft must go through as they grow? Please RT https://t.co/bINZItpWgI

— Carol Vorderman (@carolvorders) January 9, 2020
The official association which represents the Cleft world in the UK, the Cleft Lip and Palate Association @CLAPA Community is calling on @WendyWilliams to issue an apology for her show mocking those with cleft. Please see below and RT ❤️#Ambassador #BrotherBornWithSevereCleft https://t.co/XzPsAsWlkK

— Carol Vorderman (@carolvorders) January 10, 2020
About CLAPA
The Cleft Lip and Palate Association (CLAPA) is a small charity working to improve the lives of people born with a cleft and their families in the UK.
Three babies are born with a cleft every day in the UK. CLAPA is a community of families, patients and health professionals, all dedicated to raising awareness and working together to overcome any barriers caused by cleft lip and palate.
Our vision is of a society where everyone affected by cleft feels supported, connected and empowered to take control wherever they are on their cleft journey.
Find out more about CLAPA's work
Find out more about cleft  lip and palate
Notes for Editors – writing about cleft lip and palate
PLEASE NOTE: We will not be publishing any submitted comments on this article.