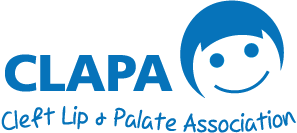 Valeri's Polar Bear Swimming Challenge
Valeri is taking on a very unique Polar Bear swimming challenge to raise money for CLAPA. We chatted to Valeri about her fundraising inspiration and how her training is going so far.
"I have always been up for a challenge! I've been a single parent for many years and have faced many challenges as a parent.
My partner's grandson (but I always say that they are my grandsons also) was born with a bilateral cleft lip and palate. It was something I had not encountered a great deal before this.
My son and daughter spoke to me about their support from CLAPA – and the seed was sown.
I'm undertaking "The Polar Bear Challenge" this year, fundraising for CLAPA. This involves open-water swimming every month from November to the end of March.
I must swim at least 2 X 250-meter swims and at least 1k each month. I am lucky enough to have the support and encouragement of a wonderful open-water swimming group.
My last swim was very challenging indeed, as although the water was 9.9C, the river was very flowy, to say the least. I was swimming and getting nowhere!
I eventually started to make some distance, but I was feeling tired, and I stopped. Turning around, I "flew" down the river like an "Olympian" and would you believe it, my partner wasn't there to see it nor did anyone film me!
Fundraising is never easy, especially in these challenging times, but I always find that people are generous and will give something (no amount is too small).
I am at 40% of my target of £2000, and I am confident I will raise this amount. If you are thinking of doing some fundraising – go for it. Set an achievable target (you can always increase this). Every penny helps; who knows, you may know someone who needs support from CLAPA in the future.