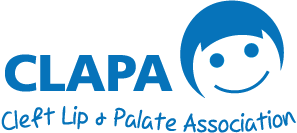 VACANCY: Data Officer (CLOSED)
PLEASE NOTE: CLAPA is committed to safeguarding and ensuring the welfare of children, young people and vulnerable adults and will assess all prospective employees in line with this commitment. See the recruitment pack below for more details.
About CLAPA
The Cleft Lip and Palate Association (CLAPA) is the national charity for people affected by cleft lip and palate in the United Kingdom.
CLAPA supports people affected by cleft to take control of their journey, connect with others, and use their voices to impact the future of care. Our vision is that no one affected by cleft lip and palate in the United Kingdom will go through their journey alone. Find out more.
Data Officer
Details
£25,000 (per annum, pro-rata)
Flexible: Up to 21 Hours Per Week (part-time)
Permanent contract
Reporting to Impact and Influence Manager
Home-based within the United Kingdom, with an option to work in the CLAPA Office in London (E2 9DA)
Please note: At CLAPA, we pride ourselves on our flexible approach to remote working. We would be happy to hear from candidates who need to work fewer hours or on a non-traditional schedule. If you are the right person for this role, we'll find the right working approach for you.
Benefits
25 days paid annual leave (pro rata), plus bank holidays and closure over Christmas from 24th December to 1st January inclusive.
Flexible working hours as agreed by manager, access to unpaid leave and 'Time off in Lieu' policy.
Access to 'Health Assured' Employee Assistance Programme
5% non-contributory pension.
Role Description
The Data Officer will provide crucial support to the Fundraising Team by importing data on donors, fundraisers and donations from various sources in a timely and accurate manner. They will also work with the rest of the team to help CLAPA develop, manage and maintain its supporter database and data flow between various systems. This role will play a crucial part in ensuring the data the charity works from is precise and up-to-date.
The successful candidate will be highly IT-literate, with an eye for detail and a good understanding of data management procedures as well as data protection principles. They will enjoy working flexibly and finding creative ways to streamline processes and make the most of CLAPA's data.
This is a new role in the charity, but it will be fully supported by staff with significant experience in this area.
How to Apply
APPLICATIONS CLOSED
Applications close: 3rd May 2023
Interviews: 2nd June 2023
Start date: ASAP
Get in touch using the below details if you have any issues accessing the recruitment pack or completing the application form or if you would like to receive either in a different format.
Contact Impact and Influence Manager at [email protected] if you have any questions about the role or the application process.
We request that no recruitment agencies contact us regarding this listing.