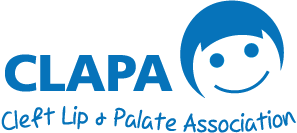 VACANCY: Fundraising Officer (CLOSED)
PLEASE NOTE: CLAPA is committed to safeguarding and ensuring the welfare of children, young people and vulnerable adults and will assess all prospective employees in line with this commitment. See the recruitment pack below for more details.
About CLAPA
The Cleft Lip and Palate Association (CLAPA) is the national charity for people affected by cleft lip and palate in the United Kingdom.
CLAPA supports people affected by cleft to take control of their journey, connect with others, and use their voices to impact the future of care. Our vision is that no one affected by cleft lip and palate in the United Kingdom will go through their journey alone. Find out more.
Fundraising Officer
Details
Up to £25,000 depending on skills and experience (per annum, pro-rata)
Flexible: Up to 35 Hours Per Week (full-time)
Temporary contract (Up to 31st October 2023), with potential to extend
Reporting to Head of Income/Fundraiser
Based at the CLAPA Office in London (E2 9DA) or at home within the United Kingdom (biannual visits to the office required for all-staff meetings)
Please note: We want to make sure that we find the right people to work in our team, and we know that the traditional 9-5, five days a week, doesn't suit everyone. So, we would love to hear from you if you feel you're a great fit for this role and would like to work flexibly. If you are the right person for this role, we'll find the right working approach for you.
Benefits
25 days paid annual leave (pro rata), plus bank holidays and closure over Christmas from 24th December to 1st January inclusive.
Flexible working hours as agreed by manager, access to unpaid leave and 'Time off in Lieu' policy.
Access to 'Health Assured' Employee Assistance Programme
5% non-contributory pension.
Role Description
The role of Fundraiser is a key post in the organisation working to maximise CLAPA's income from the community. It's a very exciting time to join the CLAPA team, we have an ambitious new Income Generation Strategy in development to increase our income diversity. This role will play an active part in this strategy by providing excellent customer service and building strong relationships with our community fundraisers and event participants.
This post will focus on increasing sustainable income from a variety of community income sources. The main priority areas of income generation will be: from members of the community; challenge events; schools and groups; small businesses; 'in celebration' giving, and in memory giving. This is a key position at the charity, working on day-to-day administrative tasks, including donation coding, recording, thanking and supporting various fundraising activities. The role requires excellent communication skills, administration skills, great attention to detail and excellent customer care.
How to Apply
APPLICATIONS CLOSED
Please complete the Application Form linked in the Recruitment Pack below. For safeguarding reasons, we are not able to accept CVs.
Applications Close: 9 am 21st April 2023
Interviews: Week commencing 1st May 2023 (via Zoom)
Start Date: ASAP
Get in touch using the below details if you have any issues completing the application form or would like to receive it in a different format.
Contact Head of Income at [email protected] if you have any questions about the role or the application process.
We request that no recruitment agencies contact us regarding this listing.