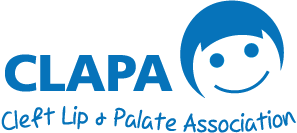 South Wales Branch Present to Dentistry Students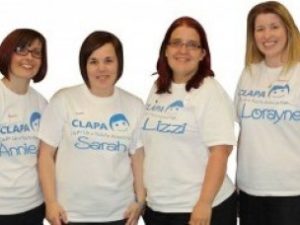 Back in November 2013, dentistry student (and soon to be CLAPA volunteer) Steph Kirby, contacted CLAPA to say she was organising an evening at Cardiff University on Cleft Lip and/or Palate. She had already arranged for a couple of healthcare professionals to talk, however also wanted to get individuals affected by cleft to share their experiences. CLAPA got in contact with the South Wales Branch, who jumped at the opportunity to raise awareness for CLAPA and cleft. Here is Annie Clothier's (CLAPA Volunteer) account of the evening:
"We were thrilled to be asked to do it as this has been an aim of ours for some time to catch the newbies before they get out into practice in the world of healthcare.
It was a very emotional experience for me and I could feel my lip quivering as I started to talk about certain aspects of our journey but overall I found it really helpful in overcoming issues that I hadn't dealt with on our own cleft journey, as they say "it's good to talk".
It was great that we went as a team as having the support of the girls was invaluable. We each told our stories and then answered questions from the audience.
At the event we were also supported by members of the cleft team namely our Consultant Dentist and Speech and Language Therapist who were also invited to speak.
The feedback we had was positive and the students enjoyed the personal perspective we gave on a predominantly medical teaching event.
Really hoping that we get asked to do this again and I promise not to blub "
"It was a very insightful and interesting presentation" said Steph "the students all said they really enjoyed hearing personal experiences."
CLAPA would like to thank Steph Kirby for organising the event and Annie Clothier, Sarah Bennett and Lorayne Kelly (South Wales Branch) for raising awareness by sharing their experiences.
If you are interested in raising awareness for CLAPA by talking to a University, organisation or healthcare professionals, please email [email protected].