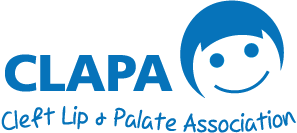 Spotlight On: South Wales Branch
Our volunteer journey with CLAPA began with the birth of our children, Ayla 2010, Tomas 2011, Finn 2011. Each of us had a passion to become more involved in CLAPA and give something back to the charity that had helped us and our children so much. We were all members of the facebook page and had become friends at that point. Thanks to Claire Cunniffe we attended a volunteer induction day in October 2012.
At that time the local branch had been inactive for a number of years and we were adamant that we just wanted to set up a happy faces group as we felt that with young children we weren't sure of the level of commitment a branch would require and if we could offer that. After the volunteer induction day on the train home the three of us discussed the day's events and pondered how lovely it would be if we did reactivate the branch…. That was it the seed was sown. We contacted Claire for more information and it was apparent that we needed more willing people to join us in our quest and the search began in earnest.
We posted on the CLAPA Facebook page for volunteers to join us with some interest but no firm commitment. I decided to look on the parent contact section of the CLAPA website and found Sarah. Who was more than willing to join us. I also managed to recruit Rachel Kellar another parent contact. ( I can be very persuasive). Since then we have had two successful Happy faces group meetings and recently held our first AGM. Our enthusiasm knows no bounds and the friendship between us has really helped, we chat constantly on Facebook messenger our husbands laugh at the times the notification sound goes off on our mobiles!
In April this year we all attended the Parent Contact training course which we managed to negotiate would be in Cardiff. (as a group we can be even more persuasive). Completing this course was a massive achievement for us as it had been something we each had a desire to be involved with. If we could help other families who were in the same position as us and reassure them we are happy.