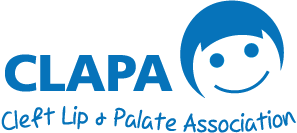 South London and Surrey Branch Quiz Night
On Friday 15th May to coincide with Cleft Awareness Week, the South London and Surrey Branch of CLAPA organised a quiz evening. Fifty intrepid quiz addicts arrived at St Marks' Church Hall, Surbiton for an evening of cerebral challenge. The evening started with a Fish and Chips supper, with teams taking on board calories to fuel the impending frenetic brain activity.
Mr Simon Dodd, chemistry teacher at Surbiton High School, delivered a fast-paced, entertaining and challenging quiz to the seven teams participating. Rounds included questions on capital cities, bond villains, superheroes, sport, adverts, and inventors and inventions. In between the rounds a raffle was held, as well as a heads and tails challenge. At the end of the penultimate round, the team of teachers from Surbiton High had established a small lead, with 6 of the 7 teams able to take the prize. The final round was a wipe-out general knowledge round, with any incorrect answers resulting in nil point, as they say in Eurovision Song contest circles. The team from Surbiton High wiped out on this round, with an incorrect answer on compass points, allowing the St John's Brains Trust to sneak into first place, with the Wednesday Night Spring Grove Footballers coming a close second.
Most importantly the evening raised nearly £600 for CLAPA and with further donations coming in after the quiz evening (including a very generous donation from Josie, the landlady at the Duke of Buckingham, Kingston) the grand total came to £660. Everyone enjoyed the challenge of the quiz evening, whilst raising money for such a worthwhile cause.
As treasurer of the South London and Surrey Branch of CLAPA, I would like to thank Simon for putting on a superb evening of entertainment and for helping to raise funds for CLAPA.