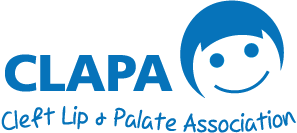 CLAPA's Work in Scotland Receives £200k Funding Boost!
CLAPA will start to increase its network of volunteers across Scotland thanks to a £199,838 award from The BIG Lottery Fund's Investing in Communities fund. Scotland has one of the highest incidences of cleft lip and palate (also referred to as cleft) with an estimated 7,500 people currently living with the condition. Thanks to today's award, CLAPA will be able to provide more support and advice to up to 700 families around the country.
Welcoming the award, CLAPA's Scotland Engagement Officer, Gillian McCarthy said: "My work with people in Scotland has revealed an urgent need for support, particularly from those who have had first hand knowledge of the many challenges which cleft can present. Until recently CLAPA has only been able to provide a limited number of support services in Scotland but the award from the Big Lottery Fund will enable us to employ two new members of staff and expand our work for people of all ages. By the end of this project, we hope to have a thriving and welcoming cleft community in Scotland."
Big Lottery Fund Scotland Chair, Maureen McGinn, added: "I am delighted that our funding will enable CLAPA to expand and grow its work in Scotland.  Having a child with a cleft can put an immense strain on families when procedures take place over several years. With the assistance of additional volunteers, the project will now be able help these children and their parents face the future with greater confidence."
CLAPA one of five projects sharing in £1.3 million from the Investing in Communities fund
We hope to have this project underway by September – make sure you've joined our community to be the first to hear about any developments in Scotland!