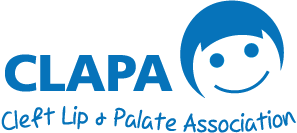 Patient Involvement Updates
The latest research and patient involvement updates from CLAPA.

The Cleft Collective
Have you ever wondered what causes cleft?
The Cleft Collective study, funded by The Underwood Trust, is investigating cleft's biological and environmental causes at the University of Bristol. More than 3600 families have been recruited from all 16 regional NHS cleft centres since 2013; they have contributed biological samples (so we can look at the families' DNA) and completed over 10,000 questionnaires and speech and language assessments across various time points.
Cleft clinicians and academics worldwide apply to use the data to investigate their own cleft research questions. Some examples of recent research include:
'Understanding the impact of the COVID-19 pandemic on speech and language development in children born with a cleft' and 'Improving mental health outcomes in children born with an orofacial cleft: Identifying children at most risk to target clinical provision.'
Find more information about the study and our research. If you wanted to be part of the Patient Consultation Group, where you help shape the direction of the study and our research, register your interest with CLAPA.   If you have any questions get in touch by email. You can also email us if you'd like to receive our newsletters and keep up to date with what we are doing!

SLUMBRS II STUDY
Slumbrs II is a randomised controlled trial aiming to answer the question: which sleep position is better for children with a cleft palate?       
The reduced airway size found in children with Cleft Palate means they are at increased risk of Sleep Disordered Breathing and Obstructive Sleep Apnoea (OSA).  Lateral positioning has been suggested as a simple therapeutic intervention to improve airway patency in children with OSA.
Currently, we do not know the best advice to give parents about the safest sleep position for a baby with a cleft palate.  As you know, the national guidelines suggest that babies should sleep on their backs to reduce the incidence of Sudden Infant Death Syndrome.  However, UK Cleft Centres differ in their advice about sleep position, with some advising babies sleep on their backs, whilst others advise positioning the baby on their side as their experience has been that the child breaths easier during sleep in this position.  However, there is no clear evidence about which sleeping position is best.
Participants in the study will have oxygen saturation monitoring at home, whilst asleep, for about 5 hours on one night aged between 3 and 5 weeks. Randomisation means we may ask parents to change their sleeping position, advised by their cleft centre.
We have 12 UK Hospitals involved in the study, and they are open to recruitment. and we have 18 participants currently recruited for the study.
If you would like more information about the Slumbrs II study, please email.

CRANE
The Cleft Registry and Audit NEtwork (CRANE) database collects information about all UK children born with cleft lip and/or cleft palate. We work on behalf of all stakeholders (patients/families/clinicians/commissioners) to monitor the quality of care people with a cleft lip and palate receive.  We are committed to helping provide the best evidence-based care through the information we make available in our reports and development work
Last year we looked at patient-related factors such as sex, cleft type, and Robin Sequence to see if these might influence the speech of children born with a cleft palate with or without a cleft lip at age 5. Speech data was available for 3157 children, born between 2006 and 2014 in England, Wales, and Northern Ireland.
We found that, in general, articulatory outcomes were better in girls compared to boys.  Speech outcomes also varied by cleft type. Children with a cleft affecting the soft palate only were most likely to have favourable speech outcomes, while those with bilateral cleft lip and palate were least likely to have favourable speech. The presence of Robin Sequence did not have a significant impact on speech at age 5.
We can now use this information to more accurately examine the speech outcomes of cleft services around the UK.
A link to our publications can be found here.