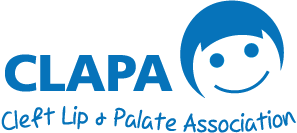 Neve inspired her family to form a fundraising team, #TeamNeve, and they are about to embark on a new challenge at the Great Scottish Run. 
Neve was born in 2018 with a unilateral cleft lip and palate, identified during a routine 20-week pre-natal scan. Neve's parents were contacted on that day by the local Cleft Team in Glasgow and introduced to CLAPA.
Neve and her family received fantastic support from the cleft team and CLAPA, providing initial family support and information packs, sources of information, and specialist feeding bottles.
Neve, at age four, has undergone two surgeries for repairs to her palate and, laterally, her lip repair surgery. She attends frequent visits to the Royal Hospital for Children in Glasgow. She meets with her cleft team, including the surgeon and specialists from audiology, speech and language therapy, and pediatric dentistry.
This is all part of the ongoing care given to a child born with a cleft lip and palate in addition to the routine appointments. Neve is likely to require further surgeries as she grows and develops.
Linzi, Neve's mum, said, "Neve is a happy, outgoing four-year-old who takes each day of her journey in her stride.
CLAPA's support for children and families going through a similar journey to ours is invaluable.
We couldn't be prouder of Jackie and her fantastic work in raising essential funds for CLAPA."
Neve's family has supported CLAPA on several occasions as TeamNeve.  Jackie was part of TeamNeve when they took part in the  Kiltwalk in 2021, raising more than £5,000. Recently, TeamNeve took part in the Step Up for CLAPA, where Neve, joined by her family and friends, walked across the Erskine Bridge, raising £1,075.