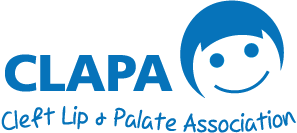 June 1-12 is National Volunteers Week, celebrating the people that allow charities like CLAPA to keep working hard all over the UK.
It's no secret that we love our volunteers  – we couldn't exist without them, and their passion and dedication to our cause inspires us every day.
CLAPA's volunteers are the tireless organisers of local events, the kind voice on the other end of the phone, and the people that make CLAPA a truly user-led organisation. For us, they're a lifeline. With our small staff and limited we can only do so much, but with our volunteers we can expand our reach and support people where and when they need it the most.
This week, we want to say a huge THANK YOU from everyone in the CLAPA Community for everything that our volunteers do.
What's going on this week?
Every day from 1st-12th June we'll be posting a story from one of our volunteers to highlight the incredible work they do. We'll be talking about the different volunteering roles CLAPA offers and about the amazing people that fill them. Each journey is different, and we'll hope you'll follow along to find out more about what inspires our volunteers to get involved.
Are you a volunteer?
This week is all about YOU – use the #ivolunteer hashtag on Twitter, Facebook or Instagram to share your volunteering story!
We've sent out certificates to our inducted volunteers, and hopefully yours will be with you soon. Please do post up a photo when it arrives and share it with us @clapacommunity.
Today's Featured Volunteer: Kathy Parker
Kathy is a Clinic Volunteer at Birmingham Children's Hospital. She also won Volunteer of the Year during CLAPA's 2015 Volunteer Awards!
Kathy's Story
"For the last 16 months, I have been volunteering in Birmingham Children's Hospital as a CLAPA Volunteer in the weekly Cleft Clinic. My role is to talk to parents about the support CLAPA can offer, as well as upcoming events and activities. This has been both challenging and rewarding, and I am proud to say that I believe that I have had a positive effect on many of the people I have met.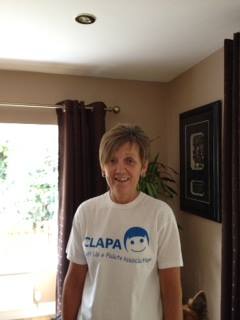 Going into clinic for the first time was very nerve-wracking. I am not a confident person, and I have never been comfortable talking about my own cleft with others. Fortunately, the staff at the hospital were very friendly and supportive, and after a few initial hurdles, I began to feel more confident.
In clinic, I approach families and ask them whether or not they have heard about CLAPA. Many have, and are happy with the support they have already received, or have reached a stage where they feel that the services of CLAPA are no longer of use to them. Some even ask me how they can raise money for CLAPA as a thank you, and to raise awareness.
I also inform parents about upcoming events, and the work of the West Midlands Branch. I hand out leaflets advertising our events, and often I find this is a great way to get people interested. Since becoming a volunteer, I have also become Vice-Chair of the West Midlands Branch, and through my work at clinic, I am pleased to say that attendance at our events has increased dramatically. I have even had parents ask me how they can become volunteers and join the committee.
One of the events that I have really enjoyed promoting is the Residential Weekend for children aged 9-16. Many of the parents I spoke with at clinic thought that the weekend was a great idea, and the children who came absolutely loved it. I also attended the weekend, and I was really pleased to see how many of the children grew in confidence over the weekend.
The clinic is often crowded and noisy, and it can be difficult to approach people to talk about something that they themselves may not wish to discuss. There is often a language barrier, which the West Midlands Branch has tried to remove using leaflets printed in different languages. Most parents are happy to talk about their child, and I have found that some parents find it very reassuring to talk to an adult who has a cleft – many comment on how it helps them to see how their child may look after their surgeries have finished.  When I started volunteering, I never thought that parents would have thought that, and my experience in clinic has really helped to build my own confidence and become more open about my own experience of having a cleft. I have also found it really rewarding to build relationships with the children, and to see them coming to our local events and meeting other children with clefts.
Some weeks in the clinic are very difficult, but overall I have found the experience to be very beneficial. Sometimes I will have a week where no one is interested in talking to me, but then I meet a mom, dad, grandparent or child who really wants to know about CLAPA and share their experience with me. Then it is all worthwhile."
Find out more about volunteering with CLAPA
Share your volunteering story with #ivolunteer