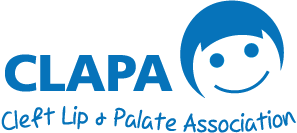 My Volunteer Story: Sarah Dennis
My passion for CLAPA began when my youngest son Lucas, who is now three years old, was diagnosed with a unilateral cleft lip and possible palate, at what we understood to be a routine antenatal scan. Although the news came as a shock for my husband and I embraced our unborn baby and decided to do everything we could help both him and others alike.
Read Sarah's Story about the birth of her son
From the moment that Lucas came into this world I found a passion in wanting to educate others on having a child born with a cleft lip and palate. I have watched him undergo two operations to date, many hearings tests, speech assessments and not forgetting the difficult and time consuming task of trying to feed him. As a family we have been through a roller coaster of emotions but with my hand on my heart I can honestly say that I would not change anything about him.
The support we have received for the last three years from our cleft team has been nothing short of amazing, our nurses have held our hand every step of the way whilst providing us with support and guidance. Our experience with our cleft team and CLAPA, led me to put myself forward as a user representative. This gave me opportunity to share some of our experiences which may help to improve what is already a fantastic service and charity.
My relationship with CLAPA began when I decided to organise a sponsored walk in Kent during October 2010, we had a few families from the Kent and Sussex area that came and joined us for the eight mile walk and with a combined effort we managed to raise over £6,000 for CLAPA, the support that we received was phenomenal and I never in my wildest dreams thought it would be possible to raise such a large amount of money.
In September 2012 I completed the one day official volunteer course in Bristol and met some amazing people who I still regularly speak to now. I like to think of CLAPA as a family, we all support each other, share our highs and our lows and offer encouragement and advice to each other.
Following on from my training I have set up a Kent Happy Faces group, and whilst there are only a few of us that meet on a regular basis we still have a great time with our children. It is extremely important for me that Lucas grows up having friends that were born with a cleft, I hope that they can support each other and share experiences but most of all I do not want him to ever feel alone in his journey. I have made some amazing friends along the way and I hope that I continue to do so. We always welcome new faces and it's great for us as parents to sit down over a cup of coffee and chat about not only our children but also our everyday lives.
Becoming a volunteer with CLAPA has inspired me to do more and help educate others. I am currently training to do the London 10k run in July for the charity that has changed our lives and touched our heart.
Sarah Dennis