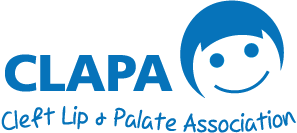 It's day four of Awareness Week, and today we're excited to share something a little different.
'TWO SIDES: A CLEFT STORY' is an upcoming documentary by IQ Network Creative due for release in 2017 about the reality of cleft lip and palate in the UK, including the ignorance and misconceptions that still exist today.
CLAPA has been involved since the early stages of this project and we are very proud to be a partner on what is sure to be a film with a unique message and huge impact. We'll be telling you more about this project as it develops, but in the meantime we hope you enjoy this powerful clip about the dangers of ignorant comments and the importance of spreading awareness.
Please share this video on our Facebook page and like the Two Sides: A Cleft Story page to help us spread the word this Awareness Week!
As you'll know if you've been following our daily articles, we've been posting a challenge each day of Awareness Week to encourage our community to get involved.
TODAY'S CHALLENGE: Using the #MyCleftStory hashtag on Twitter or Facebook, share a negative or ignorant comment you've heard about cleft, and help everyone understand why raising awareness is so important.
Find us on Social Media
#CleftAware
#MyCleftStory
#CleftStrong