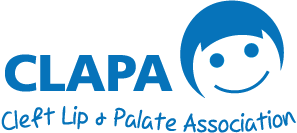 #FundraisingFriday: Wedding Fayre
We received this lovely letter from Emma and Lee, whose children Jensen and Noah were both born with a cleft lip and palate. Emma's sister Kayley and her friend Johanna have decided to try and raise money for CLAPA!
The Wedding Fayre will be in Stoneybeck Inn, Penrith, on Sunday 12th March from 12 – 4pm. Over 25 local suppliers will be attending, and entry will be free all day! You can find out more on the event's facebook page here.

Dear CLAPA,
On the 4th of March 2013 our beautiful baby boy Jensen arrived, my husband and I felt so lucky to have a healthy little boy after a previous miscarriage Jensen was born with a cleft lip and palate, we were expecting this as it had been diagnosed at the 20-week scan. Jensen's cleft palate was picked up on a routine scan at Carlisle hospital in Cumbria, we were imminently referred to the RVI cleft lip and palate department. The whole team were amazing, straight away we were introduced to a specialist cleft nurse who sent us for 3D scans and advised us on what to expect when having a cleft lip and palate, she was lovely and I can honestly say I don't know what I would have done without all her care and support. She recommended we go on a website called CLAPA, we wanted to have a look at before and after photos and look for advice and information from parents in our same situation. We continued to use the CLAPA website through Jensen's lip and palate repair for advice and guidance with feeding following surgery. We also bought Jensen's special bottles and teats from CLAPA.
In 2013 my sister and husband did a skydive to raise money for the RVI cleft lip and palate department. As she wanted to help and thank the department for their amazing work and care offered to me, she managed to raise 2000 pounds.
In 2015 my husband and I decided we would love to have another baby but were very worried about the second baby having a cleft so we went to our doctor and spoke to our cleft nurse and were advised that this would be very unlikely as neither of us carry a family history of clefts. We were over the moon when we found out we were pregnant and our baby would be due in April 2016. At our 20weeks scan we were told that our second baby would be born with a cleft lip and palate also. We were heartbroken, again we turned to CLAPA and the RVI cleft team for support.
On the 26th of April, our beautiful little boy Noah was born and we were so happy to have another healthy boy. Again, we used the CLAPA website for support and advice through Noah's lip repair at the end of March.
Having both boys born with clefts has not been easy, it's been hearth breaking watching Jensen and Noah must go through surgery and trying to deal with Jensen's speech problems but I know we will get through it, CLAPA is an amazing charity and all the support from the cleft team at Newcastle and the love and encouragement from our family will help our little boys grow up to become confident handsome men.
So, my sister Kayley is now trying her hardest along with a close friend Johanna. To raise money for CLAPA, They strongly believe this is a wonderful charity that does not get recognised enough. They are organising a wedding fayre in Penrith, Cumbria on the 12th of March 2017. And absolutely all money they can raise will be coming to the charity. To say a huge thank you for everything you have done for my family.
Hopefully the money they raise will help you continue to help so many parents like us.
Yours faithfully,
Emma and Lee Prescott