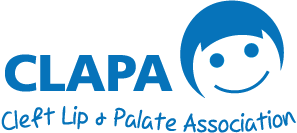 #FundraisingFriday: Stephen's Story
A huge thank you to Stephen for raising an incredible £1,105 for CLAPA! He got in touch to explain why supporting CLAPA means so much to him.
I wanted to start my year with a fresh new challenge to raise funds for a fantastic charity that has provided support for many families through the years, including my own family.
I was born with a cleft lip and palate and CLAPA gave my parents so much guidance and reassurance through my early operations, and dental procedures later on. They also provide the individual with a lot of confidence and reassurance through early youth.
Fortunately, I've had the chance again to raise funds and awareness and prove that, these minor issues that can deeply affect people can be conquered. I'm also doing this for my family, who I am so proud of, and for my Dad who sadly passed away 14 month ago. I know he would have thought I was mad taking on the challenge.
I took part in the Spartan Race on 7th April, and managed to run the Spartan Super which is 8 miles and over 25 obstacles, in a time of 2 hours 9 minutes which on the day put me 69th out of 1689 people. I was so happy with a that and have raised an amazing £1,105 for CLAPA!
If you are ready to get muddy this Summer and want to get involved in an obstacle challenge event yourself, please contact Nicky at [email protected] to find out more information or take a look at our website to explore how you could fundraise for CLAPA.