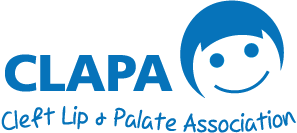 Francesca's daughter Eva was born with a left-side cleft lip, palate, and gum notch. She shared their journey with us and what inspired her to set up an Instagram page to raise awareness.
"Eva was born with a unilateral cleft lip, palate, and gum notch on the left side. We discovered her diagnosis during a private scan four days before Christmas Day 2021. We had booked this to find out the gender ahead of Christmas Day as a gender reveal. 
To say it was a shock was an understatement it was heartbreaking as we were expecting a nice experience and not that we would be told our baby was cleft. We then had to sit and pick 3D images of our girl, and it was heartbreaking as none of the pictures on the walls around us of other babies looked like ours. We then had to wait until after Christmas for it to be confirmed during the 20-week scan at our hospital. 
 It was an emotional blur of tears and worry about what have I done wrong and why us—then having to tell our family and close friends. We still had our gender reveal on Christmas Day; it was full of different emotions. The joy that we were having a girl but scared of the unknown and worry and sadness. 
The hospital confirmed Eva had a cleft lip, possibly a gum notch, and a cleft palate. There were many sleepless nights of worrying. It felt as if we were grieving before we had even met Eva, grieving the experience we thought we would have and what she would have to go through. I didn't want to see a 'typical' baby as it hurt, there were people around us that were pregnant, and you can't help thinking why. 
 Our Cleft nurse was so supportive and came to our house and spoke with me, my husband, and our families. She answered all our questions, listened to our worries, and reassured us that this was ok. 
She went through the pathway and how we would feed her with the bottles CLAPA provided. Our nurse helped and supported us as it gave us a greater understanding and allowed us to enjoy my pregnancy still.
During my pregnancy, we had a lot of scans and appointments with the FMAU. Each scan was always a mixture of emotions; they would tell us something new that they hadn'thadn't picked up last time. They regularly checked her heart rate and blood flow, and she was getting the nutrients she needed. At the same time, seeing her growing and listening to her heartbeat was positive. 
Toward the end of my pregnancy, I attended a Zoom meeting with other parents and the cleft team. We spoke about our pregnancy and how we felt about meeting our babies and listened to other parents who had gone through the same thing. It was a helpful call but emotional as we were all going through a similar journey but on different pathways. 
Eva was born in May 2022 and was perfect; she was ours. I looked back at my pregnancy and wondered why I worried as much as I did. Eva had a left-side cleft lip, palate, and gum notch. 
Eva had her first surgery at four months; at this point, I didn't know what to expect. The cleft lip was just Eva; to us, she was perfect. That smile was so big and amazing, and I will treasure that forever. The surgery was five hours long; it felt like a lifetime just waiting for her knowing she was undergoing lip and nose reconstruction surgery. 
When she came out of surgery, it was like she was a newborn baby again, but she looked different after the repair. The days and weeks were hard watching her go through the healing, but we got through it. Eva was so strong; people say babies are resilient, and it really is true.
We got to see Eva's first smile twice.
Eva had her second surgery at nine months old to close her palate. The surgery was three hours long, and the recovery was quicker than previous surgery. The surgeon has been amazing, and we couldn't thank him enough. 
Six weeks post-surgery, the palate is healing nicely, and Eva is back on solid foods, which she is extremely happy with. She has started sucking out of the bottle herself without assisting with feeding. We are so proud that the little things to others are massive as a cleft palate parent. 
Since surgery, her speech has come on further. She has said baba, mama, hiya, and nana, is making new sounds, is crawling, and has just started to walk, so that's fun! 
We will have speech and language sessions to strengthen her palate muscles, and this will continue through school if needed, as well as hearing and any other support till Eva is 18 years old. 
Eva will have another operation when she is nine years old to repair gum with a bone graft ahead of her adult teeth. She is so strong and a little cheeky girl! We are so proud of her. 
 I want to raise awareness and share Eva's story to support other families that may have just found out the diagnosis or are due to have operations and show our amazing girl off as she is so beautiful. 
 I have set up an Instagram page for her. Since setting up the page, I have been able to speak with other cleft parents and have been able to offer them our personal experiences and share our stories together. "
Thank you, Francesca, for sharing your story and awareness with others.