Esmae and Alison's fundraiser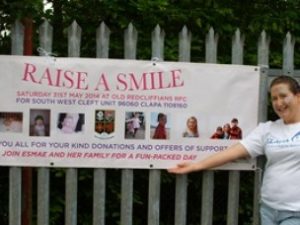 The Old Redcliffians Rugby Club showed their softer sides when they helped Alison Dunster and her daughter Esmae raise an amazing total of £3500 for the Cleft Lip and Palate Association & the South West Cleft Unit.  The combined efforts of Alison's sterling promotion skills and the great attendance on the day all culminated in a terrific event which kids and adults enjoyed alike!
Tina Owen, a CLAPA Bristol Branch member, had only praise for Alison's wonderful organisation skills. Of her own part in the event she said, "I have never folded so many raffle ticket stubs in my life before!" – testament to the magnificent turnout that Alison mustered up. She went on to say, "the cleft team are very grateful to Alison and all her friends and family who made the day such a success and raised money  for the unit and the families we support". We are so grateful to Alison and her family, and are very excited that plans for next year are already underway!