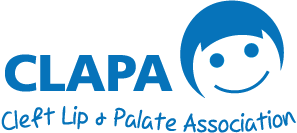 Ellie's daughter Phoebe was born with a unilateral cleft lip and palate. She shared their journey with us and the support she has received from the CLAPA Community.
Phoebe was born with a complete unilateral cleft lip, cleft palate, and alveolar gum notch. We received Phoebe's diagnosis, as many do, at our 20-week scan. 
Our sonographer completed the scan and said, "There is something that has shown up. It looks like the baby has a cleft lip," and then left the room so that we could cry in peace. Until then, we hadn't wanted to find out the sex of our baby, but we decided to there and then so that we knew something else about her other than that she would be cleft-affected.
We spent many days crying, angry, isolated, and in a very dark place mentally. When we felt ready, we came to the CLAPA website (staying firmly away from Dr. Google) and started our journey. By this point, our wonderful cleft nurse specialist had already been in touch and arranged to visit us. 
CLAPA arranged for a parent-peer supporter to contact us, and it made such a difference. We are eternally grateful to Emma, mum to Florence, for speaking with us in those dark, early days.
 After further scans and appointments, it seemed as though Phoebe's cleft diagnosis was an isolated issue, and we were fortunate enough to have seen her cleft palate visualised on a scan, too, so we knew in advance to expect this also. 
 At 32 weeks, we went for a 4D scan to see Phoebe's cleft in better detail. We were both anxious and worried that we might not react well, but all there were tears of joy. 
She was smiling, poking her tongue out of her cleft, and we marveled at all of Phoebe – not just her cleft. We saw the rest of our baby; her chubby wrists, her umbilical cord, and then it clicked that she was entirely normal and her cleft was only a minuscule part of who she was going to be.
Phoebe was born a week overdue and was a shock of black hair, pink skin, and screams. Her cleft was the last thing I noticed, and her birth was as magical as any other baby's.
We have never had a moment's difficulty feeding her, and she took to her bottle immediately. We always will recognise that Phoebe is cleft-affected, but we have also chosen a path that is not definitive of who she is and is very much a small part of her. 
We do not feel like "cleft parents," and we don't see Phoebe as a "cleft baby." We are simply loving parents to a baby who happened to be born with a cleft. Phoebe came to us exactly as she was meant to, and no matter what we did, we realise now that Phoebe would always be born with her cleft. 
 I have been so lucky to have made many lovely friends through this community. We love seeing our babies develop, supporting one another through those big milestones, offering advice around surgery time, and sharing ideas for feeding, scar care, and anything related. 
Offering advice to others has helped me to realise how far I have come, and it makes me want to reach back in time to the frightened, lost person that I was and tell her that it's all going to come good in the end. 
Offering advice to others has helped me to realise how far I have come, and it makes me want to reach back in time to the frightened, lost person that I was and tell her that it's all going to come good in the end. 
We are desperately proud of Phoebe for all that she is and has overcome. She has had her lip and palate repaired and flew through both, although they are very difficult times. 
People are amazed when I show them photos of Phoebe before her lip repair, and she babbles away now, just like any other baby. She may require some speech therapy but so do many non-cleft-affected children. 
We miss Phoebe's cleft and first smile intensely, and every day we ask her how she has woken up more beautiful than the day before! As we've always said, there's nothing abnormal about Phoebe except her crazy little chuckle that has everyone else laugh too.
If you've just received your diagnosis, you are anything but alone. Embrace the journey, take comfort in what you know for certain, and try not to agonise about what you can't yet know. 
Nobody's journey through parenthood is simple despite how it may appear, cleft-affected or not! 
Thank you, Ellie, for sharing your story!
Have you got a story to tell? We'd love to hear from you! Share your story.