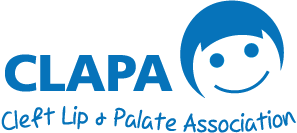 Today, we officially launched a new charity partnership with the global company, Crown Worldwide Group. This partnership means that we are Crown's exclusive Charity of The Year and whilst some people may think it's just about raising money this partnership is about so much more and here is how it came about.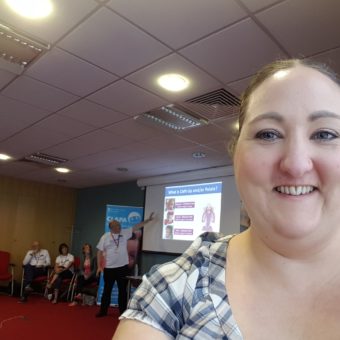 Like many companies, Crown rely on their employees nominating charities for a short list for the staff to vote for. One of Crown's staff is a mum, who's daughter was born with a cleft many years ago and CLAPA has always been close to her heart. She thought she would be alone in her nomination but little did she know that two of her colleagues were also affected. Susanne, has undergone over 20 operations and Janine, also from their Enfield office, has a husband, now in his late thirties, who was born with a cleft lip and to this day still suffers from anxiety due to his years of treatment and self-perceived facial appearance. Both of them had never been referred to CLAPA before and where totally empathetic and motivated by the cause.
I went to meet them in July to talk about our services and how I felt Crown could support CLAPA. During the meeting I was bowled over with their thirst for information and enthusiasm for our cause. What's more I was truly moved by the stories they told of their experiences and the affects that having a cleft has had on not just them but their families as well – stories which I know many people within the CLAPA Community would identify with.

By this time, CLAPA had made it through to the final staff vote, overcoming some major household charity brands. This meant we were into the final staff vote but in order to persuade the staff, the rules, set by Crown's CSR team (Corporate Social Responsibility), dictated that charity staff could not make the pitch, it had to come from staff representatives. I therefore had to think of an approach that would make them stand out from the competition- Shelter, Stroke and Diabetes UK – some real heavy weights. However, we have something they don't – a great community, so here was my approach:
Our joint UK spread. Crown Worldwide has 19 office site spread across the UK, matching up really well to our 16 volunteer branches. Like CLAPA Crown have a genuine community vibe with staff that are vested in their locality and with the skills and local knowledge they could be a real asset to supporting activity in our regions – supporting Christmas parties and branch days as well as stimulating fundraising within their areas.
As we look to grow and develop our infrastructure, CLAPA Head Office needs voluntary support and Crown's professional skillbase could help us in a number of areas.
Compared to some of the large charities they have supported we are much smaller and  the impact of their support would be far greater.
Our representatives – the staff I met were extraordinary, their issues and experiences of cleft were stark and their desire to help affect change was palpable. All I had to do was give them direction, an amazing CYPC video and a call for action…. They would do the rest.
They delivered the presentation and a packed board room but I had to wait 6 weeks, I was praying. If we could secure this partnership with such a major conglomerate, the benefits of fundraising and awareness could be amazing. However, we were competing with some real big guns.
On my first day back from holiday I received a call from Janine who facetiously sounded down. Then just when I thought we had lost she screamed that 'WE GOT IT!'…………..I was bursting.
So what will this mean?
We are now in the process of launching the partnership to all their 450 staff in the UK and we hope to achieve the following:
With Crown's match funding scheme they will match every pound that the staff raise so we hope to match to exceed past partnerships of £35,000 to £40,000 over the year. This will involve a programme of small fundraising activities.
Volunteering – we will develop a programme of voluntary support in fundraising and practical support linked to CLAPA branch activities throughout the year.
Embrace Crown's professional skills – Use their broad professional skills to help us develop process in finance, data protection, facilities management and communications.
Already Crown's charity team have come to meet us at our Head Office and we are incredibly excited at the opportunities that lay ahead. What's more it helps give CLAPA added credibility to be working with such a major organisation and we look forward to reporting on achievements as the year progresses.