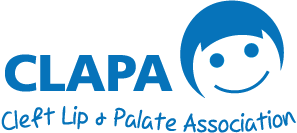 Hello to the CLAPA community, my name is Rosalind (pictured right) and I have recently joined the Cleft Lip and Palate Association as the Senior Community Fundraiser.
I have only been working at CLAPA for a short time, but have found myself stuck into the day to day running of the office, and I'm very passionate about supporting CLAPA's fundraisers the best way possible.
Coming from a RAG background at University, I have varied experience of supporting fundraisers in a range of activities and events. During this time, I often found that people were excited and willing to fundraise but often were unsure how to get started!
This is why I am so excited to share with everyone the newest fundraising packs that have been created for anyone who wants to fundraise for CLAPA, but isn't sure how best to.
I have created three packs, one aimed at anyone and everyone, giving general tips, advice and ideas on how to hold fundraising events at school, work, home or with friends. This pack is full of ideas on various fundraising events, how to promote your event, how CLAPA will support you and case studies on previous successful fundraisers to give you some inspiration!
The other two packs are aimed at children who are part of uniform groups such as Rainbows, Brownies, Guides, Beavers, Cubs and Scouts. These packs give advice on how to raise vital funs and awareness for CLAPA whilst earning a variety of Award Badges. These packs aim to give guidance and inspiration to children who are interested and excited about raising funds and awareness for CLAPA, whilst also letting them know how their funds and efforts will help.
I am very happy to have joined CLAPA and would love to hear from anyone who has a fundraising idea in mind, needs some fundraising tips or wants to share their fundraising success!
Download Your Packs
The Little Guide to Fundraising