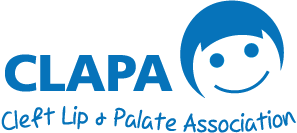 Cambridge Branch Plants Jubilee Trees at Addenbrooke's
Addenbrooke's Hospital in Cambridge is the home of the East of England Cleft Network, and where the families involved in the Cambridge branch of CLAPA will have gone for treatment.
The Woodland Trust's National Jubilee Woods Project provided an opportunity to make the hospital campus a more welcoming and relaxing area for young patients and their families in between appointments. Dr Anna Zeffertt, Consultant Clinical Psychologist on the Cleft Team, got the ball rolling, and after consulting with the Trust, chose Himalayan Birch trees to plant on the lawn.
The seven trees were funded by CLAPA Cambridge, and were planted in a ceremony that included eight-year-old Hallie Larham and her family.
CLAPA Cambridge Committee Member Zara Napier said "We hope that the trees will be enjoyed by patients as well as providing a quiet place for families to come and sit away from the busy hospital wards for many years to come."
You can read more about the tree planting on the Cambridge University Hospitals' website.