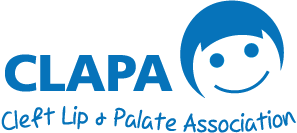 Our community of over 20,000 members is the backbone of CLAPA as an organisation. Made up of parents, family members, health professionals and adults with a cleft, our community allows us to listen to and represent the needs of people in the UK affected by cleft, and ensures we are doing everything we can to support them.
By signing up to the CLAPA Community, you are helping us to take an active role in shaping the future of cleft care and creating a better world for everyone in the UK affected by cleft.
Under 18? Sign up to our Youth Forward community for young people born with a cleft.
Why Sign Up?
Regular e-newsletters and e-mailings to keep you up to date with events and opportunities relevant to your needs.
Receive our annual magazine 'CLAPA News', packed with stories, information and updates from the cleft world.
Access to local support services through our Branch Network.
A chance to have your say and represent others like you in our surveys, polls and studies.
Full training and support for volunteers with a variety of roles to suit everyone.
Be part of the UK's only charity dedicated to all those affected by cleft lip and palate.
Download a photocopy-friendly PDF Form
To sign up, just complete the form below
Can't see the form? Click here to sign up.