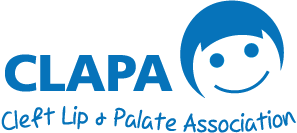 Jump To: CLAPA's Cleft Collective Consultation Group
Jump To: Using the Cleft Collective's Data
An initiative of the UK-based charity the Scar Free Foundation (previously named the Healing Foundation), and supported entirely by voluntary donations, The Cleft Collective is one of the largest cleft lip and palate research programme in the world. The research programme was officially launched in 2012.
Visit the Cleft Collective Website
CLAPA Blog: A Day at the Cleft Collective
Latest Updates
16th September 2020: How were children born with a cleft affected by the COVID lockdown?
This fantastic new infographic from
The Cleft Collective
illustrates the results of their COVID-19 questionnaire where so far 1273 parents and carers have given responses on everything from education to emotions. See more.
About the Cleft Collective
Although a cleft in the lip and/or the palate is relatively common, affecting around 1,000 newborns per year in the UK, little is known about what causes it to happen. For parents whose child has received a diagnosis of cleft, feelings of guilt and grief are common, and parents often worry about their child's future. While care for children born with a cleft has improved considerably over recent decades, the burden of ongoing cleft treatment can still have a significant impact on the family, and opinions remain divided over which are the best treatments.
The aim of The Cleft Collective is to make substantial progress toward answering three key questions which parents often ask:
What caused my child's cleft?
What are the best treatments for my child?
Will my child be OK as he/she grows up?
The Cleft Collective Cohort Studies
A cohort study involves recruiting families to participate in the research from an early stage, and then keeping in touch with them as their child grows up.
Over 3,000 families are being invited to participate in The Cleft Collective Cohort Studies. Cleft teams will invite eligible families to take part either before or after the birth of their child, or when their child attends their five-year review clinic. Families will be asked to provide biological samples (such as saliva) and to complete questionnaires at key points during their child's development. We are also asking permission to access the families' medical and educational records, and are running a number of additional studies, including a Speech and Language study and a 3D Facial Imaging study.
We hope the information we collect from families will help us to identify some of the biological and environmental causes for cleft. We also hope that keeping track of the family's wellbeing and the child's development will help us to improve psychological support for families and individuals who have been affected.
Although the research team is based in Bristol, families from across the UK will be invited to participate in the studies. We are extremely grateful to all of the families who are already taking part in this important research, and to the NHS cleft teams. Thank you also to CLAPA and their members for their continued support of this ambitious project.
Taking part in the research
If a child with cleft is born, or turns five within the recruitment period, the child and their family members should be eligible to participate in the main Cohort Studies. If this does not apply to you, there are still many ways you can become involved in The Cleft Collective research programme.
Sub-studies
We often run smaller studies to find out more about a particular group of people or a specific topic. Some of our recent projects have included working with fathers of children with cleft, adults with cleft and siblings of children with cleft. Thank you to everyone who has participated in all of our studies to date.
Patient and Public Involvement (PPI)
You can also become involved in the research process itself. For example, you can help us to choose the most important research questions, help us to shape our research protocols and support us to design our materials. This ensures that the research we are carrying out is appropriate and relevant, and will make a real difference to people affected by cleft.
Find out more about CLAPA's Cleft Collective Consultation Group.
To find out more about the general PPI process, please visit www.invo.org.uk.
Cleft Image Bank
We collect photographs of families, young people and adults who have been affected by cleft, to give a real-life feel to our work. We use these photographs in our conference presentations, on our website and in all of our materials. Thank you to everyone who has already sent their photographs to us and spotted their children in the media!
Mailing list
We send out newsletters twice a year to everyone on our mailing list. These include updates on the progress of the project, reports on our research findings and opportunities to take part in studies and activities. To sign up to receive our newsletter, please contact us.
Read the Latest E-Newsletters
Cleft Collective Spring 2019 Newsletter (PDF)
Cleft Collective Summer 2018 Newsletter (PDF)
Collaboration
If you are a researcher, health professional or student, please contact us about opportunities for collaboration.
Using the Cleft Collective's Data

The Cleft Collective is a large-scale multigenerational cohort study of children born with cleft lip and/or palate (CL/P). More than 2500 families have been recruited from all 16 CL/P regional NHS clinical centres since 2013; they have contributed biological samples, completed questionnaires as well as speech and language assessments across various time points. Furthermore, with parents' consent, the Cleft Collective has accessed medical and educational records through data linkage. This resource has been established to provide data from multiple disciplines with the aim of answering your research questions relating to cleft.
The Cleft Collective website details how you can access the resource. The data access policy, research proposal form and a data dictionary detailing the data which is currently available are all accessible via this page. Please do contact the Cleft Collective directly at email:  [email protected] to discuss your research question further as their team is there to support you in any way they can. Where appropriate, they may also be able to discuss the potential of setting up a nested study with you, where new data is collected on a subsample of the cohort.
Find out more
To find out more about The Cleft Collective, or to express an interest in taking part in the programme, please contact the research team in Bristol:
Tel: +44 (0)117 331 0025
Email: [email protected]
Website: www.cleftcollective.org.uk
Facebook: www.facebook.com/cleftcollective
CLAPA's Cleft Collective Consultation Group
As part of their efforts to involve real people affected by cleft throughout the development of their research projects, the Cleft Collective have worked with CLAPA to put together a consultation group.
This group is made up of a small group of people from our community who are personally affected by cleft lip and palate, either as parents and carers, or as people born with a cleft themselves. A few times a year, this group will meet to discuss different aspects of the Cleft Collective's research. This is mostly done through video calling, though an in-person meeting is also planned each year.
The people in this group use their personal experiences to help develop materials, as well as guide the research strategy for the future. This includes providing feedback and a fresh perepsective on everything from participant recruitment to the development of research questions.
They're a vital part of the Cleft Collective and we are extremely grateful for their input as volunteers!
To find out more, or to join this group, contact [email protected]