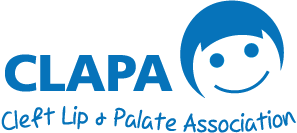 Pain Relief
What pain relief will my child have?
This varies according to the operation and also whether there are any medicines that your child cannot take. Usually there will be regular Ibuprofen, Paracetamol and possibly Morphine, either through a drip or as a liquid by mouth. Talk to the ward staff if you have any concerns about pain relief, both at the hospital and afterwards at home.
Will we get to take pain relief home?
The ward provides pain relief on discharge but it is always a good idea to have some Paracetamol and Ibuprofen already at home.
How long will my child need to take pain relief?
Children's sensitivity to pain varies but hospitals usually recommend you give regular pain relief for one to two weeks after discharge. Always follow the advice given to you by your Cleft Team, and go straight to them if you have any concerns or questions. Every child's needs are different and it's vital that you get advice tailored to your specific situation.

"When Rafe was recovering at home I found it helpful to note down the times of when he has his medicine; the antibiotics, the paracetamol and the ibuprofen. They all needed to be taken at different times and in varying quantities. You are very tired during the recovery period, so it helps to note down the medication times in case you forget when you administered one of them (or perhaps it was just my poor memory!) The antibiotics gave Rafe diarrhoea, which caused him to have nappy rash. We were given a tube of Metanium at the hospital which was very handy in helping to clear up the nappy rash. A friend also recommended that we give Rafe baby probiotics during and after his antibiotic course to replenish the supply of good bacteria in his intestines (which is wiped out by antibiotics)."

– Katie J, South London
Caring for a Lip Scar
A visible scar will be left after cleft lip repair surgery and it may appear red, swollen and bruised after surgery, but this will fade considerably as it heals and your child gets older. Swelling may take a few weeks to settle, and the scar may get thick, lumpy, and even start to pull the lip back up as it shrinks in the first few months. This is all part of how a scar heals– be aware that it can take years for the scar to 'settle' into its final appearance.
It is important to keep the scar clean and free from scabs, as this helps with the removal of stitches. You will be shown how to keep your baby's lip clean before you go home from the hospital.
Generally, you are advised not to use a dummy/comforter for several weeks after surgery, and to try and stop your child from putting their fingers or toys into their mouth.
Infections are rare, but look out for warning signs including a raised temperature and loss of appetite. If you suspect anything, call the ward or your GP.
Your surgeon will give you expert advice on how to care for your child's scar. Follow this advice closely and consult your team or your Cleft Nurse specialist if you have questions or concerns.
Sometimes stitches in the wound are dissolvable, and sometimes they will need to be removed. Either way, you will have to come back to the hospital for a follow-up appointment not long after the operation, and you will get information about this before you go home.
"At the time, the three-week recovery period felt like it would never end. It did end and Rafe bounced back to be his happy little self. A few weeks after surgery while the lip was healing it did pull up a lot as the scar healed. It was a little alarming for a while as it almost looked like he had a cleft in his lip again (albeit a much smaller one). We were reassured by our cleft consultant that it would just take time for his lip to come down again and she was (of course!) totally correct. I did a lot of lip massage […] and his lip eventually and stubbornly started to come down. As soon as the lip started to come down again it miraculously corrected itself very quickly.

Six months later it is hard to believe that Rafe ever had a cleft in his lip, the results of his surgery are extraordinary! When new people meet Rafe now and I tell them that he had a cleft lip, they look at me like I am talking nonsense."

– Katie J, South London
Creams and Oils
Some teams advise massaging a baby's scar with special creams or oils once the wound has healed enough. There are a number of different options available, such as Bio Oil or Vitamin E. Some parents may recommend products that appeared to work well for them, but in all cases check with your Cleft Team first and follow their advice. What works for one child may not be appropriate for all, and some 'essential oils' may contain other ingredients that could be harmful.
Feeding After Surgery
Some babies will feed after surgery without too much trouble, others will take longer to settle back into a comfortable feeding routine.
Generally, the surgical team are happy for you to start feeding as soon as your baby is awake after surgery, though this may be uncomfortable for your baby at first, and it may be especially difficult if their lips are numb from surgery.
You will not be discharged from the hospital until the team are confident that your baby will be able to feed well at home, so rest assured that you will be supported by the team through any feeding difficulties you have after surgery.
After a palate repair, your baby will usually be able to suck, so you may be able to move on to different methods of feeding. Every child is different, so consult with your Cleft Nurse specialist for help with this.
"It filled me with so much happiness hearing him being able to suck a bottle and make such cute little sucking noises. Something he should have been able to do from birth. We were advised to carry on gently squeezing his milk bottle for a few weeks to give the palate time to heal properly. It took [him] about two months before he was totally proficient with the sucking; what used to take forty minutes to have a bottle of milk can now sometimes take about five minutes. It is pretty mind-blowing that [he] is now able to suck a bottle of milk like any other baby of his age who were born with a normally-functioning palate." – Katie J, South London
Get Support
If you have questions or concerns, either before or after surgery, it is always best to contact your Cleft Team in the first instance. They will be able to give you advice tailored to the hospital and your child, and you can be sure that their information is reliable.
If you would rather talk to another parent, try our Parent Supporters. They have been trained by CLAPA to support others at difficult points in the treatment pathway, and will understand better than anyone what you will be going through during and after surgery.
Our Facebook Group is also an excellent source of support, and with over 7,000 members you're sure to find a listening ear even in the middle of the night. However, do remember that any advice from this group may not be appropriate for your particular situation, and it should never replace the advice and information you will receive from your team.
You can also read stories from other parents about their experiences with surgery and what followed.