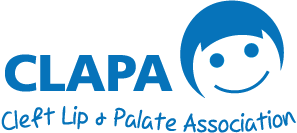 Facebook Group Guidelines
There are three main CLAPA Facebook Groups which we moderate:
There are also a number of regional groups and groups run by Branches and Happy Faces organisers. These are moderated by regional staff and volunteers.
Jump to:
Background and Purpose
The Facebook groups were intended to be a way for parents to swap photos, stories and advice in a safe environment where cleft lip and palate was 'the norm'. The original group was for parents/carers, as we felt it was important for them to have somewhere where they didn't have to worry about people not understanding their child's cleft or asking unwelcome and intrusive questions, and could instead focus on the joy of being a parent to a beautiful child who is so much more than a condition they were born with. We have added new groups since then, and over the years we have been overjoyed to see these grow into active, vibrant communities where people offer emotional support, practical advice and a listening ear to one another.
However, as these groups get bigger, there is a greater need for moderation. We would ask all our members to accept and respect the actions of our entire moderating team, and understand that their actions are always intended to benefit the group as a whole and preserve its original purpose.
The CLAPA Facebook Groups have two main functions:
For support to be given and received mutually between group members
For CLAPA and CLAPA Volunteers to share relevant events and services with an appropriate audience
By joining any of these groups, you are agreeing that you are willing and able to interact and engage with others in the spirit of mutual support, especially during any disagreements or emotional situations that may arise. Please read the guidelines provided at the bottom of this page to ensure you fully understand what this means and what we expect from our users.
Privacy
These groups are set to 'Closed', meaning that non-members cannot see your posts and must request to join. While posts may show up on your timeline, they should not be visible to your friends who are not in the group. However, as these support groups are hosted on Facebook, CLAPA cannot take responsibility for any breaches of privacy that occur as a result of errors or changes on Facebook's part. This may include others being able to see your photos or private messages, which is a risk everyone takes by using Facebook. While we do our best to maintain the privacy of the groups, they are ultimately under Facebook's control.
We encourage our members to post and share photos on these groups, as we all enjoy seeing them. However, please be aware that CLAPA has no control over other group members downloading or sharing these photos. You can change your personal privacy settings as well as the settings on each photo you post to limit this, but it may still be possible for others in the groups to download and/or share individual photos. Unfortunately there is nothing we can do about this as it is a feature of Facebook itself, not the CLAPA groups. If anyone feels their or their child's privacy has been violated, we encourage you to report it to Facebook directly.
If you have any questions or concerns about privacy while using our Facebook groups, please see our 'Staying Safe on Social Media' document.
Profile Pictures
We understand that some group members would like to use the CLAPA logo as their profile pictures in order to raise awareness of the charity's work as well as cleft lip and palate, and we are very grateful that our supporters would think of us in this way. However, CLAPA staff also post in the group using dedicated charity accounts, and the only way we can show this is by having staff members use the CLAPA logo as their profile picture.
To avoid confusion, we would ask that non-CLAPA-staff please refrain from using the CLAPA logo (including just the 'CLAPA face') as their profile picture, and to not use 'CLAPA' as part of their name.

If you wish to add the logo to your profile pictures, we ask that you use one of CLAPA's Twibbons which can be found here.
A Twibbon is a way for anyone to show their support for a campaign or organisation right in their profile picture by placing a transparent logo over the top. It's completely free and works on both Twitter and Facebook. There are different Twibbons for regular CLAPA supporters, CLAPA Parent Supporters, trained volunteers and members of other groups such as Adult Voices. The full list can be found here.
Moderators
As well as CLAPA Staff, we have trained Volunteers who moderate the group to ensure the wellbeing of the community as a whole. We will only intervene when it is necessary to preserve the group's ultimate objective of facilitating mutual support, and this includes stepping into group discussions and acting as necessary when members do not appear to be able or willing to take the personal responsibility expected.
If you post something which does not fit with our posting guidelines, we may delete your post and any comments without warning or explanation. Full guidelines can be found at the bottom of this page.
Current volunteer moderators in the CLAPA Community group include: Lizzi Lewis, Victoria Davies, Carole Tuck, Emma Wick.
If you have any questions about moderators or issues with their actions, please messages one of them directly, or email [email protected]
By joining any of these groups, you agree to the following
Taking personal responsibility for all posts and comments, and for ensuring that you follow the guidelines provided here.
 Respecting yourself, others and the community as a whole. These groups will have members with a range of personalities, backgrounds and beliefs. At all times you must respect these differences and never intentionally alienate or upset any group of people.
Practicing empathy towards others. Please remember at all times that the group members are there for the same reason. Try to be understanding and compassionate, and focus on our similarities rather than differences.
Only posting content that is relevant to the group, i.e. questions/answers, photos and comments to do with cleft. Other content may be deleted without warning.
If members feel they are unable or unwilling to follow the guidelines and rules, we would ask that they leave the group in question. By choosing to join these groups, you are agreeing to follow the guidelines and rules laid out below.
Rules and Guidelines
General Posting Guidelines – What you can and can NOT post on our groups, as well as general things to be aware of when engaging with the community.
Using Social Media Responsibly – What we mean by 'taking personal responsibility' for your actions in the community, and what we expect from ALL of our members.
Staying Safe on Social Media – Would you like to join a group but are concerned about security issues? Read this for a quick run-down of the pros and cons.
Language Guidelines – A guide to the terms and phrases we use when talking about issues related to cleft lip and palate