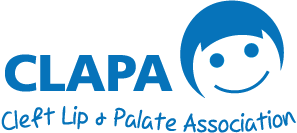 Volunteers Week – Charlotte
Charlotte very kindly volunteered to be one of our brave bucket collectors for our recent collection in Waterloo Station! Below she tells us about the reasons she got involved!
I am branch secretary for the CLAPA Bucks & Beds Branch. My husband was born with a cleft lip and palate, so we have been aware of CLAPA for a number of years.
Our Branch was formed so that there is somewhere local families can go if they need support or to provide opportunities to meet other families who have been affected by cleft. I had previously raised funds for CLAPA and then became involved in the branch to continue my support for CLAPA's awareness raising and fundraising.
I chose to volunteer at Waterloo Station as I work for the rail industry, so I felt very proud that my company were supporting CLAPA by enabling the bucket collection to take place and also wanted to show my personal support. The bucket collection was a great opportunity to raise awareness for CLAPA, as well as collecting valuable donations.
A number of people approached me on the day to talk about family members or friends they knew affected by cleft, and to share photos of their journeys. It was great to see their pride in seeing CLAPA represented and to hear their positive words about their experiences of both cleft and their contact with CLAPA.