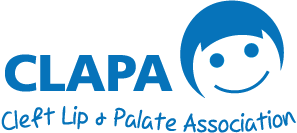 Trustees Week – Cassie Footman
Trustees Week – Cassie Footman from CLAPA Video on Vimeo.
Cassie Footman
I am mum to Kiera and Regan – Regan was born with a complete unilateral cleft lip & palate. He's due for an alveolar bone graft in the next 12 months and has now got the bug for raising money for CLAPA.  I've had first hand experience of the excellent support given by CLAPA; it was a parent contact who put me in touch with my cleft services following antenatal diagnosis. I applied for a Trustee position because I feel very passionate about the work CLAPA do – not just in supporting individuals & their families but also in influencing a high standard of healthcare services, including education of health care professionals outside the cleft services who are involved in initial diagnosis.
I am delighted to join the team and bring over 18 years strategic Human Resources experience and now run a coaching & mentoring business from home. Much of my current work involves helping a broad range of individuals be the best they can be – from young people to frazzled parents and worn out entrepreneurs.
My family time is sacred and is usually spent playing/watching football, cycling & enjoying movie nights with my husband and the children.
Find out more about our trustees here.