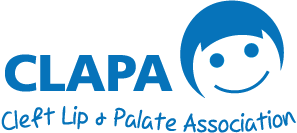 The City Cambodia Project: Week 5
We're back in Cambodia with Louisa and Megan, two Speech and Language Therapists from the UK who are taking part in this years City Cambodia Project.
What does Week 5 have in store for the pair?
The week began with an early start for our follow-up meeting with Mr Kimchhorn Hang from Krousar Thmey, a school for deaf and blind children. We were given a tour around the school, including the classrooms that were currently being used for training staff while the children are on holidays. Much to our interest, we were shown the only braille production centre in Cambodia, housed within the school, where textbooks are printed onto special paper that is imported from USA. We were excited to be introduced to the three staff currently training, made up of two 'speech teachers' and one hearing aid technician with an interest in speech and language therapy. Over some very delicious, sticky coconut rice, we had a very useful discussion regarding what they already knew, and what they would like to get out of the training. Following this, conversation turned to academics that they had heard of from the UK, and Kimchhorn mentioned the one and only Gary Morgan, our child psychology lecturer from our first year of university. After a productive meeting, we spent the rest of Monday making plans for the rest of our week.
We kicked off our days at CSC this week by recapping last weeks training with Vin. This involved some worksheets and labelling a diagram of the speech and swallowing body parts – which was good practice for us all! Vin also wow-ed us with her knowledge of phonetics (speech sounds), as we took it in turns to produce sounds for the rest to label. Last week we had been asked by Samnang to create a presentation on VPI (Velopharyngeal Impairment), which is difficulty with the palate in terms of either structure or movement. We spent an hour going through the presentation with him, including the causes and symptoms of VPI, and to our delight, Samnang was very impressed with our PowerPoint presentation skills.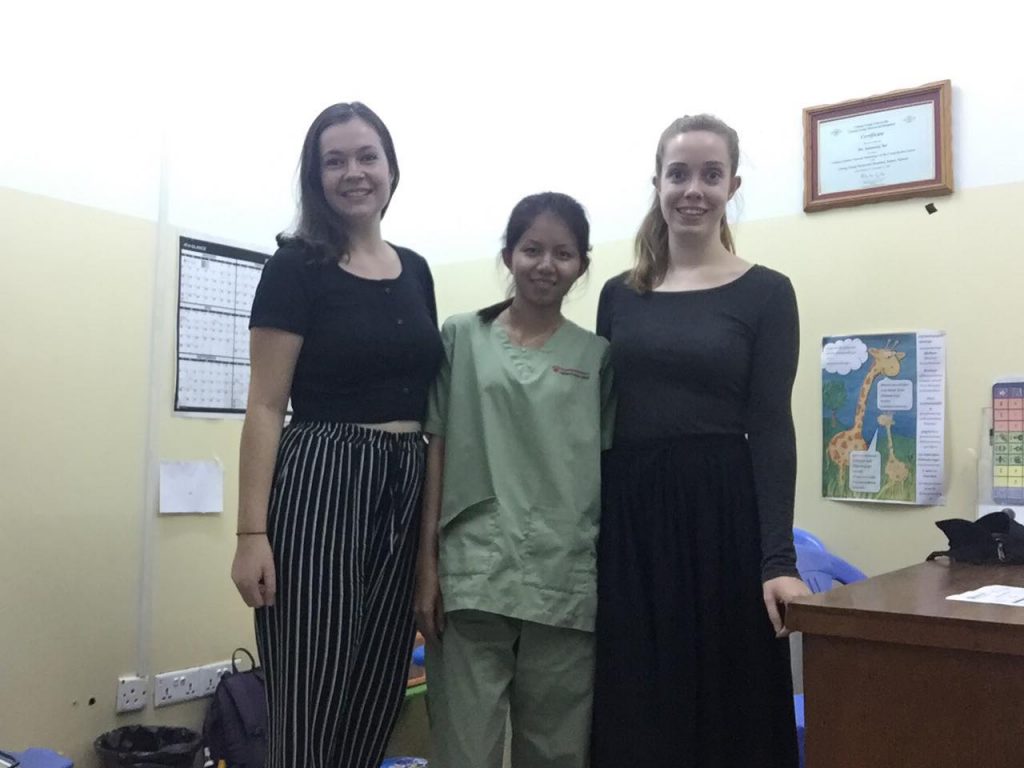 We arrived for our second day at CSC to some flooding outside the hospital! Although a surprise to us, this is a common occurrence in the wet season of Cambodia, so we found ourselves wading through the water to start our day of work. After a productive day yesterday working with Vin, on our second day we were unable to spend as much time with her. As Vin has experience in the audiology department, they needed her for a couple of hours in the morning as they were short-staffed. At lunchtime, she informed us that she unfortunately she would have to spend the afternoon at her university. However, when returning from our lunch, we were approached by a father and his daughter who we had advised last week to come for a follow-up appointment. With no means of communicating with them, we had no choice but to call Vin back to work! Vin arrived back in time for us to deliver a successful speech therapy session, where we taught the patient and her father some games to practice oral airflow (for mouth sounds such as b and k), involving blowing a ball of paper across a table with a straw. At the end of the afternoon we reflected on the challenges of delivering direct therapy with the language barrier and were disappointed that our time training Vin had been so limited this week.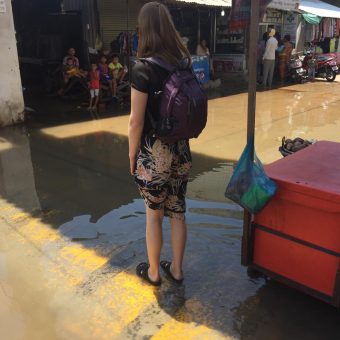 Thursday was not only our first training day at All Ears, but our very first group training day! We spent the morning being introduced to the team of audiologists, getting a feel for the work that they do, how the clinic works and meeting real-life cases of people with the conditions we had learnt about at university, such as ear-drum holes or 'perforations'. We were also shown how an hearing aid is made!
In the afternoon, with the help of Chhorra, our lovely translator who we met on October's Smile Mission, we delivered training to thirteen audiologists in the basics of speech and language therapy and the idea that language is developed like a 'house'. In other words, we must first have one aspect of language (e.g. understanding of language), to have another (e.g. the ability to produce it). To help the group imagine what it would be like for someone with a communication difficulty, we set an activity for them to get into a line in order of birthdays from January to December, but with a catch…no talking allowed. Despite a little rule-breaking, we were impressed with how quickly they completed the task. Nonetheless everyone was able to reflect on how difficult and frustrating a lack of communication must be. At the end of the session, we introduced the use of a case history as part of assessment, where difficulties arose with explaining the difference between speech and language. After reading feedback sheets completed following the training, we thought about how difficult abstract concepts such as 'communication', 'speech' and 'language' are to translate, particularly as they incorporate so many processes and actions that are subtle and can be subconscious. This is something that we will recap in further sessions, continuing to focus on making our training as practical and useful as possible.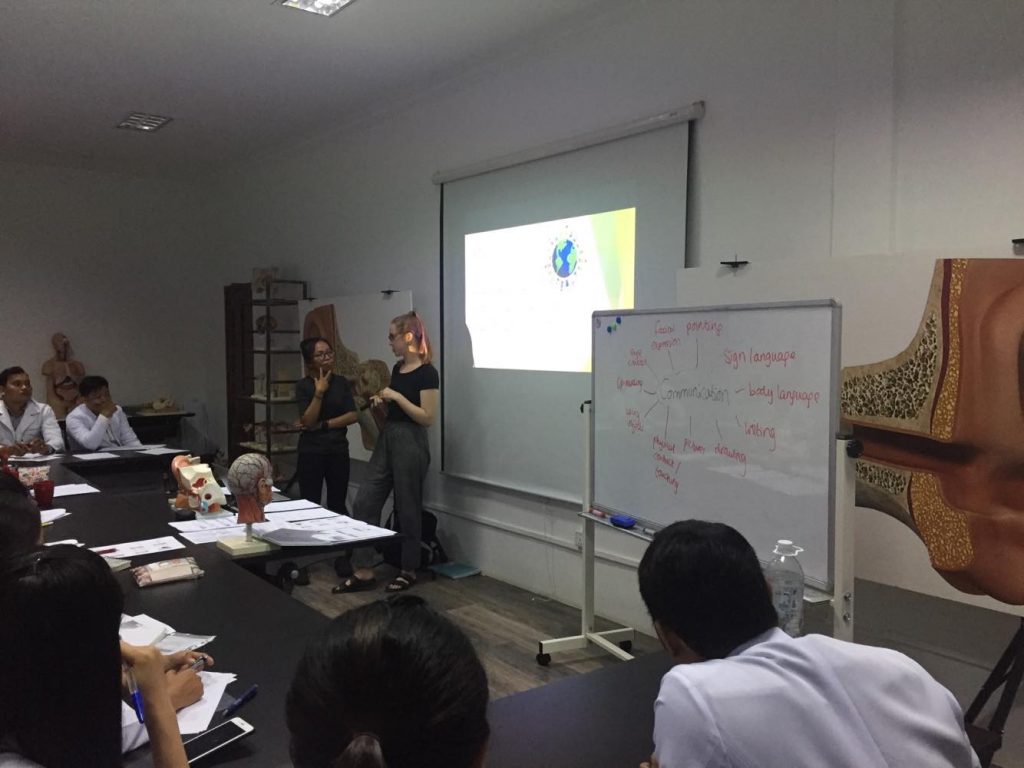 On Friday we went to a meeting with the Speech Therapy Network, this included representatives from OIC, Happy Kids and other organisations practising speech therapy in Phnom Penh. It was very interesting to find out about all the projects they are doing and share with them our own. We spoke with Hannah from Happy Kids, who is currently developing a speech assessment based on Khmer developmental speech norms. We discussed the possibility of playing a part in the creation of the assessment, using the experience to improve the KASS (the Khmer Assessment of Speech Sounds developed by City Cambodia students in previous years). Making sure our work is grounded in Khmer child development research, gathered from the local population, is very important for sustainability. There is a huge amount of accent variation in Cambodia, which can impact what a child sounds like and how we perceive their speech and language development. We are very excited about the opportunity to delve a little deeper in to research and be able to pass this information on to professionals working in our settings and teams who volunteer in Cambodia in the future.
7th-14th October
This week the whole of Cambodia will be celebrating Pchum Ben, also called Ancestors Day. This Is a Buddhist holiday that is dedicated to respect and remembrance for the ancestors of Khmer people. People return to their home provinces, visit the pagodas and give monks gifts of food and candles. For this reason, the city tends to be completely deserted and everyone is given a week off work. We are going to be spending Pchum Ben visiting more of the country, heading to Battambang in the north east and then down to Koh Rong Samloem for some sun, sea and relaxation.
Our next blog post will be from Prea Vihea, near to the northern border between Cambodia and Laos, where we are heading for another Smile Mission.
You can follow the progress of this year's City Cambodia Project here.