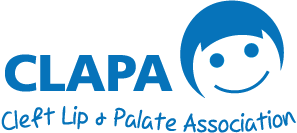 South Thames Cleft Service and the Regional Fund
The South Thames Cleft Service has recently received four breast pumps, which have been funded from CLAPA's Regional Fund.
The South Thames Cleft Service provides care to all children born with a cleft in the southern half of Greater London, Surrey, Kent and Sussex. A recent review of their existing breast pumps identified that a number of machines are no longer fit for purpose and that further breast pumps would wear out over the coming 12 months and would also require replacing.
The South Thames Cleft Service took this opportunity to go out to the market place to review the various breast pumps available and have recently ordered six replacement Fisio V Electric Breast Pumps funded by the NHS.
CLAPA's Regional Fund is used to support all our wonderful volunteers and branches to put on activities locally and provide medical equipment like breast pumps for new mums. The Regional Fund is filled up by Branches, groups and individuals around the UK working hard to raise money, but anyone already involved with CLAPA can apply to access these funds to help them put on an event or provide some other kind of support service.
The South London and Surrey and West Sussex Branches joined forces and submitted a funding request to the Regional Fund for the purchase and supply of four additional breast pumps for the South Thames Cleft Service.
Emma Southby, CLAPA Trustee and Lead Clinical Nurse Specialist, South Thames Cleft Service commented "The South Thames Cleft Service would like to thank CLAPA for their donation of four new breast pumps.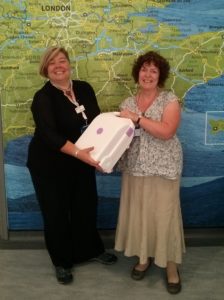 They will make a huge difference to many Mum's and their baby's with a cleft lip and or palate. You may not be aware that one of the difficulties that a baby with a cleft palate has is that they cannot manage to breast feed. This means that without a breast pump they would miss out on the opportunity to get the extra benefit that breast milk can give.
In order to keep the milk supply going a Mum requires a strong pump that is not available in the shops. CLAPA bought a number of our previous breast pumps which were an invaluable resource over the last 10 years. They were in constant use enabling us to lend a breast pump free to every Mum who would like to give her child breast milk. Recently after 10 years of great service they have started to breakdown. This new generous donation means that we will continue to be able to offer a pump to every family across our region and over the next 10 years they will help many babies."
Abbie Hills, branch chair of the West Sussex Branch commented "At the West Sussex Branch we were all very excited to be given the opportunity to be part of the funding initiative to provide new breast pumps for the South Thames Cleft Service. We know from personal experience that breast pumps can make it easier for new mums who want to express for their babies, and anything that helps can make a great impact on a cleft baby's start in life."
Ian Chatt, branch chair of the South London and Surrey Branch commented "To assist the South Thames Cleft Service meet increasing demand for the need of breast pumps for babies born with a cleft lip and or palate, the South London and Surrey and West Sussex Branches of CLAPA joined forces to apply for funding for four breast pumps, which would benefit the whole of the South Thames Cleft Service area and would effectively mean that CLAPA has donated one breast pump per area for the South East Region.
The donation of breast pumps from CLAPA will help many mums provide breast milk for their babies affected by cleft, free of charge for as long as required to any mother who wishes to give breast milk to her baby. The loan of a free electric breast pump encourages mothers to continue expressing for longer and has health benefits for both mother and baby".