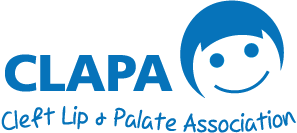 This Awareness Week, as we reflect on the kind of world we want to work towards, we want to look at how storytelling can help us to get there.
Katie is an artist who uses her skills to create portraits and start conversations about cleft. As part of this year's theme of 'celebrating difference', we spoke to Katie about the power of art in awareness-raising.
What's your connection to cleft?
Hi, I'm Katie, and I am married to Will, who was born with a complete unilateral cleft lip and palate. His father, aunt, and grandfather are also cleft-affected.
When I met Will, and we knew we would be together, this was something we spoke about; should we have children, he wanted me to know that we could well have a cleft-affected child. Zoom forward a few years, and we were living and teaching in Singapore when I found out I was pregnant with our first child. Initially, we were told Ella didn't have a cleft, and so when we then received the news further into the pregnancy that she did, it was a shock. We had recently returned from our Christmas in the UK, where we had told everyone she wasn't cleft-affected, so to then be so far away again and to be told she had a complete bilateral cleft lip and palate was hard.
Who has supported you throughout your family's journey so far?
We have been incredibly fortunate all the way through our journey with cleft. We had amazing surgeons and support, both in Singapore and here in the UK. The cleft and craniofacial unit at our local big hospital is brilliant, and at every step of the way, we could call if we needed to.
View this post on Instagram
When did you first get into art and creating portraits?
I have always been an artist, and I have always wanted to make and create for as long as I can remember. I followed the traditional Art Education route in this country and have a degree in Surface Pattern and Textile Design. I've also taught Art across multiple creative disciplines in Secondary schools for the last 20 years. Aside from my teaching, I have always drawn on commission, most recently portraits of children. This organically led to drawing children who were born with a cleft. It really does feel like such a beautiful and privileged thing to be doing.
What does art mean to you, and what is the power of art when it comes to raising awareness of cleft lip and palate?
Art is our universal language; we are all born creative. Creativity is not something we discover; it is something we lose when we forget to flex that particular muscle or when someone somewhere says something, and we judge our creative voice and so stop using it. Drawing cleft affected children and adults is an incredible thing to be able to do. The power of an image speaks a thousand words.
The cleft journey is different for every single cleft-affected person and their family, yet we are united through our journeys, and our experiences are similar. My work gives voices to these experiences, and I hope it will start conversations about all things cleft. It is not just something that 'gets fixed'; in fact, depending on where you are born in the world, it may not even get that. I want to help educate, inform, and raise money to support our global cleft community. Art and creative expression is a fantastic thing when it comes to learning, growing, and exploring.
What are your plans for your art?
In December 2019, I decided to leave my teaching career and build my own creative business. Besides my Cleft Portrait Challenge, I work on private commission and regularly teach online through Zoom. I am just about to launch my website and have big plans for my creative communities. I can be found on Instagram at @artbykatiemanning.
I have set myself a target of 100 cleft portraits by next year. I want to hold a huge exhibition and create a book to reflect the stories and incredible people who have taken part. This is a huge undertaking but something I feel compelled to do. The first portrait I drew was Jen Cross, from 'Don't Get Lippy'. I found Jen on Instagram when we were travelling through a tricky part of our journey. I found her so inspiring, straight-talking and kind, so it made perfect sense to start with her baby portrait first. I was delighted when she said yes, and in fact, I think that video is on my Instagram highlights!
View this post on Instagram
Each portrait is different depending on how the inspiration comes in when I start to work on it. So far, I have used pencil, continuous line, pastel, watercolour, fabric and stitch. Some are in colour, and others are in black and white. Smile Train have kindly given me some of their images, and lots of mums have contacted me directly to ask for their children to be part of the 100 Cleft Portrait Challenge.
What do you wish everyone knew about cleft?
I want everyone to know everything about it!
What would a world which truly celebrated difference look like to you?
It would be absolutely incredible. The world needs to slow down and be kind. Lockdowns and restrictions have meant we could not do as much as we may otherwise have done. Many people have taken this time to reflect and question where their lives are going, especially as they have been facing the inevitable difficulties of loss and fear we have all been presented with over the last year. I would love it if we could not forget how we have felt in these times and always remember that life is an incredible gift and the opportunities are all around us when we open our eyes.
Kindness, compassion for self, and education is the way towards a truly accepting world. I want my Cleft Portraits to start the types of conversations where these values are discussed and discovered.
Thank you so much for sharing your story, Katie! Head to our Awareness Week hub to find out more about this year's theme.